One-year subscription to Gorilla Trades cost $499.95. Is it Worth it?
An annual subscription to our flagship service, Gorilla Breakout Alerts costs $499.95. This service is based on a proven trading system and has been successfully helping thousands of investors attain financial security and independence for over 20 years.
You will find that a similar system-based stock recommendation service in the market could cost anywhere between $2500 and $5000.
So, a Gorilla Alerts Breakout subscription at $499.95/year is a steal. This is not exactly cheap. But is very well worth it.
But please remember that ours is a unique trading system unlike anything else you have seen before. That is why our system is not for everybody.
In this article, you will be given all the details you need to know to decide whether this service is the right fit for you.
Summary
Gorilla Trades Inc was founded by former Wall Street money manager Ken Berman, who also serves as the current CEO of Gorilla Trades.
Started in 1999, Gorilla Trades is one of the longest-running stock recommendation services in the US.
Through our flagship service Gorilla Breakout Alerts, we provide daily trade recommendations of high probability stocks that are in the verge of breaking out in a big way.
We find these stocks using our proprietary "Breakout Scanner" software.
An annual subscription to Gorilla Breakout Alerts cost $499.95. A two-year subscription can be purchased at the discounted rate of $795.
Who Is Ken Berman?
Ken Berman is a former Wall Street stockbroker who served as a Vice President-Investments at an influential brokerage firm in the 1990s, and who managed more than $100 million of his clients' money. He has been studying and analyzing the stock market since he was 13 years old.
Until the mid-1990s, Ken used to be a hardcore fundamentalist who religiously adhered to fundamental analysis approach to pick winning stocks.
It was during that period that he realized the limits of fundamental analysis in investing and began to study the technical approach to investing in the stock market.
He found that even though technical analysis doesn't take into account the fundamental business reality of the company behind a stock, it helped him make money in a quicker and more predictable manner.
Ken tried to create a technical analysis trading system inspired by the legendary trader Nicholas Darvas, who was also the author of the stock market classic "How I Made $2 Million In The Stock Market."
After studying the strategies revealed in the book, Ken was inspired to do in the late-1990s what Nicholas did in the early-1960s: Create a unique trading system that can make him a million dollars.
After two-and-a-half years of rigorous experimentation and back-testing, he finally created a risk-controlled trading system that can also make money in a predictable and consistent manner.
He called it the "Breakout scanner" system and coded it into software that would automate the entire stock selection process.
From 1996-1998, this software helped him turn a $250,000 of his personal savings into a $5,500,000 fortune in a mere 18 months.*
What Is The Breakout Scanner System?
The Breakout Scanner was created based on the following stock market theory: Stocks have characteristics… Patterns of accumulation and distribution… Signs they give off before a massive move upward or downward.
You see, no stock can suddenly rise out of the blue.
At a basic level, there is just one reason that stocks rise in price: the demand for the stock is more than the supply i.e. a supply crunch happens in a stock making the stock scarce. Buyers have to raise their bids to get that stock.
This only happens when there are a lot of people who are unwilling to unload the stock…
Most often, these unwilling people are institutional investors who have slowly accumulated a big chunk of shares when the stock was trading at a lower price.
To make a long story short, all stocks must go through an accumulation phase just before breaking out.
The breakout scanner is designed to detect this pattern of stock accumulation activity by institutional investors.
In the mid-1990s, when the system was originally created, Ken reverse-engineered the price action of hundreds of stocks that had made sudden breakouts in an attempt to find out whether these breakout stocks showed any common pattern of activity BEFORE they made surprise rallies.
Through this experimentation and back-testing, Ken learned that this subtle pattern can be detected in advance using a blend of 14 technical indicators.
Ken's found that these specific 14 indicators, when combined, are the most reliable in finding the accumulation activity in a stock that precedes a breakout.
He first put together this system into automated software, The Breakout Scanner, in December 1998…
Since then, Ken has made a fortune for himself using the Breakout Scanner and has also helped, for over 20 years now, thousands upon thousands of individual investors attain financial independence by investing in the stock picks identified by the Scanner software.
Recently, with the help of an AI expert, Ken has fine-tuned the Breakout Scanner using a machine learning algorithm to increase the accuracy of his picks.
How to Use the Gorilla Trades System
The Gorilla Trades' Breakout Scanner system is designed to be very simple that even someone with no previous stock market experience can follow and make money.
If you pay attention and read the following section carefully, you can master this simple system, and it could change your financial situation forever…
In fact, many Gorilla Trades subscribers have used this exact system to make significant gains in just a few months' time.
You can read their exciting stories in the testimonials section of the Gorilla Trades website.
Now, let's get into the details about how you can use the system to your advantage…
To use our system correctly and become a successful stock investor, all you need to do is to follow 3 simple steps…
STEP 1: READ THE GORILLA'S NIGHTLY REPORT DAILY
The Gorilla's Nightly Report is the flagship newsletter that is sent to Gorilla Trades subscribers every night at 6 PM.
In this report, you can find the tickers of the stocks that have been added to and removed from the Gorilla Watchlist.
What is the Gorilla's Watchlist?
The Gorilla's Watchlist is a list of potentially powerful stocks that have been identified by our proprietary stock screening software…The stocks on the Watchlist are considered to be "potential buys."
These stocks are identified by the Breakout Scanner software.
Every evening after the stock market closes, the Breakout Scanner screens all 6,000 stocks on the 3 major indices based upon a strict 14-indicator criterion.
You see, a 14-indicator criterion is a rigorous filtering process….and hence, on average, there is just one… or maybe two stocks…. that will meet this strict criterion each day. Some days, there are none. You will find that I will never list a stock simply for the sake of listing one.
These are the stocks that will now appear on the Gorilla's Watchlist, and you will be given the ticker symbol of these stocks every evening at 6 PM ET in the Gorilla's Nightly Report.
Along with the ticker symbol, you will also be given a specific trigger price, profit targets, and other critical price and volume levels necessary to trade the stocks on the Watchlist.
Making note of these price levels is the 1st Step in using our Gorilla Trades system.
STEP 2: WAIT FOR THE WATCHLIST STOCKS TO TRIGGER
Remember, you should not buy any of the stocks on the Gorilla Watchlist just yet.
Instead, you should monitor them…until they trade above the trigger price given to you in the Nightly Report.
You can receive a free text alert directly from Gorilla Trades whenever a stock on the Watchlist is triggered…
When you see that a potential pick has traded above its trigger price…it's time for you to enter the trade and start riding the upside wave.
BUT there is one small caveat.
Unless you are an aggressive trader, you should wait for the "confirmation day" before buying a stock. This will help you reduce trade risk in a big way.
On average, a triggered stock will reach its confirmation day within a few days of triggering.
What is a "confirmation day"?
To put it simply, a "confirmation day" is when a stock crosses its trigger price on above-average trading volume. This above-average volume will be a "confirmation" that the stock isn't making a false breakout when it initially traded above its trigger price.
In other words, the confirmation day is a "trigger, with definitive volume."
By the way, the specific "volume level" and "trigger price" for every stock is provided when it is initially introduced. So, you always know these levels, as they never change.
Once the confirmation day occurs for any given stock, you will be notified of its confirmed status in the Nightly Report. You can then take a position in the stock the following morning.
To recap…here are the two things you can do once a stock has been added to the Gorilla's Watchlist:
Wait for the text alert we send you when a stock is triggered…If you are an aggressive investor.
Or…
Wait for us to give the "confirmation day" signal on the stock in our Nightly Report…If you are a more conservative investor.
STEP 3: KEEP TRACK OF UPDATED TARGETS AND STOP LEVELS WEEKLY
Once you have taken a position in one of our recommended stocks, you should keep of them in the Gorilla Trades portfolio, which is presented in both Excel spreadsheet format and html format at the website. It is here that you can check for any updates in target prices and stop levels, which are only made every Monday evening.
You see, at Gorilla Trades, we don't follow a fixed, rigid plan in a trade.
Here's why…
Nobody…literally NOBODY… can predict when a strong trend in a stock will come to a halt. This means, theoretically, the upside potential of a trending stock is unlimited.
That's why we have a concept of Multiple Profit Targets… to make sure we protect your profit, and at the same time….ride a stock to its maximum potential, while minimizes any losses.
Here's how it works…
Whenever a stock is added to Gorilla's Watchlist as a potential buy, it will be given two upside price targets, T1 and T2.
T1 and T2 are the price targets to sell your position in that stock and book profits in 2 phases.
In the first phase…when the stock reaches the target price or T1, you should sell 75% of the position in that stock.
This will ensure that your profits are protected.
Remember, you are still 25% invested in the stock, which you will be selling when the stock reaches its second target or T2.
Now, the second target will be raised weekly as long as the stock remains strong, and keeps rising at a reasonably rapid rate…
The point of T2 revisions is to enable you to ride a triggered stock as long as its trend remains strong and is expected to give you further profits.
And just like the target price T2, the stop loss level, of the stock will also be raised weekly depending on the strength of the stock.
This is to ensure that you lose the least amount possible in case the underlying trend in the stock reverses….and the investment begins to turn against you.
You will be notified of the mentioned updates in these levels in the MONDAY ISSUE of Gorilla's Nightly Report.
Again, stop levels and upside targets are only raised each Monday after the close. Thus, there are never any surprise changes to these levels during the week.
So that's it! The Gorilla Trades system is THAT simple!
To recap, here are the 3 steps you should follow…
STEP 1: READ THE GORILLA'S NIGHTLY REPORT DAILY
STEP 2: WAIT FOR THE WATCHLIST STOCKS TO TRIGGER
STEP 3: KEEP TRACK OF THE UPDATED 2ND TARGET(T2) AND STOP LOSSES WEEKLY
I hope this explanation has given you a solid understanding of how the Gorilla Trades system works.
Here is the thing…
Over the years, I have found that those subscribers who understand the Gorilla Trades system the most, show the largest returns.
In case you still have any doubts about how Gorilla Trades works…I recommend you read this section once again to understand the system more clearly.
How To Book Profits In The Recommended Stocks
The Gorilla Trades' Breakout Scanner system works differently than the ones you might have seen before. We use a Double Target Strategy to book profits on the stocks listed in the Gorilla Trades model portfolio.
You see, in 2019, nearly 200 stock recommendations were presented by the Gorilla Trades system.
I'm going to show you how 2 of those stock recommendations turned out …to give you an idea about how our Double Target Strategy works.
Example Pick 1:
First, let's look at PULTEGROUP
Pulte was initially triggered on April 18th, 2019, at $27.76, and subscribers were given specific upside target prices, T1 and T2, to book profits. Within 60 days of triggering, Pulte achieved its 1st Target price (or T1) at $30.25.
At that point, my subscribers sold three-quarters of their position and booked a 9% profit.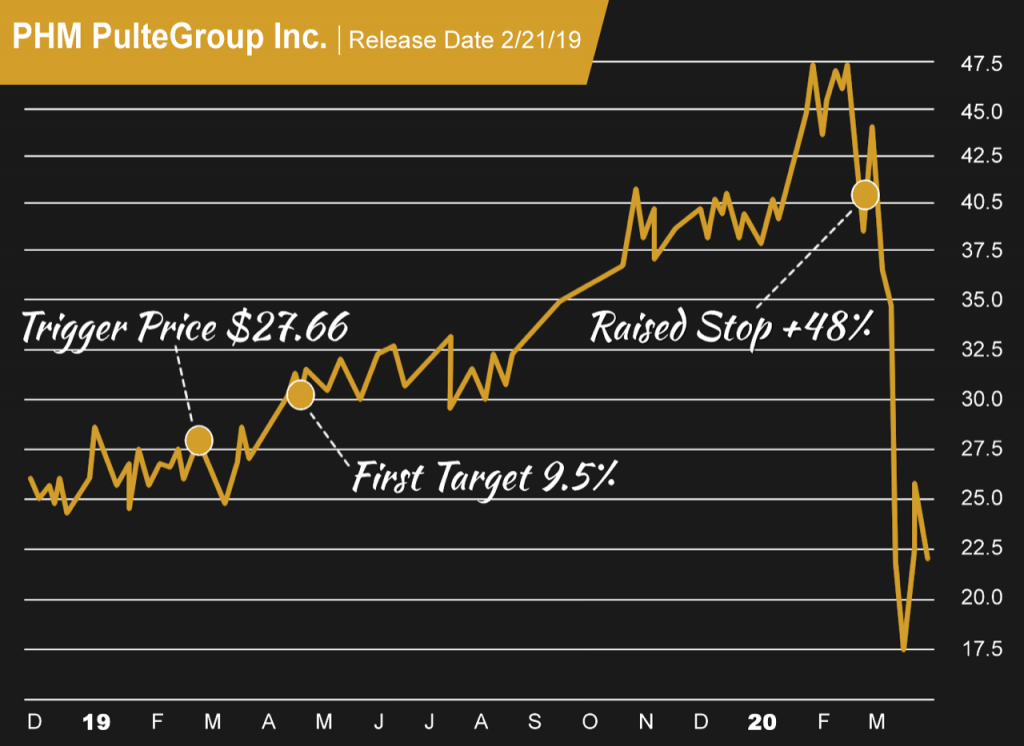 Now it was time to wait for Pulte to achieve its second target price (or T2). Initially, I had set the second target at $33.75. But the upward trend in the stock remained so strong…that I kept raising its second target upward…along with its Stop Loss Level…. I do the same thing every Monday evening with all current GorillaPicks that are trending higher…
In early-February of 2020… 10 months after Pulte was first recommended…it began to show signs of weakness due to the onset of the corona crisis. That is when I discontinued raising its second target price…but… I continued to raise its stop level to protect my subscribers' unrealized gains.
When Pulte finally stopped out on February 27th, at its raised stop level of $41…which had been raised MANY times…my subscribers made an exciting 48% profit on the remaining quarter of their position in Pulte.
That is an example of how Multiple Profit targets helped us let the profits run.
Remember, this 48% profit was made on the remaining position in Pulte, after booking the initial profit at T1.
That is an example of how the Double Targets concept helps us let the profits run and maximizes our returns.
Example Pick 2:
Now, let's look at another example that demonstrates how this technique can help cut losses and protect the profits we earn.
We shall consider a scenario in which a recommended stock goes against us after the initial profit booking at T1.
Let's look at Brinks (BCO)
Brinks was another one of the trading opportunities that our radar identified in 2019. This stock was triggered on July 8th, 2019 at $85.44 and within just 15 days, it reached its 1st target price of $87.57, giving my subscribers a quick 9% profit.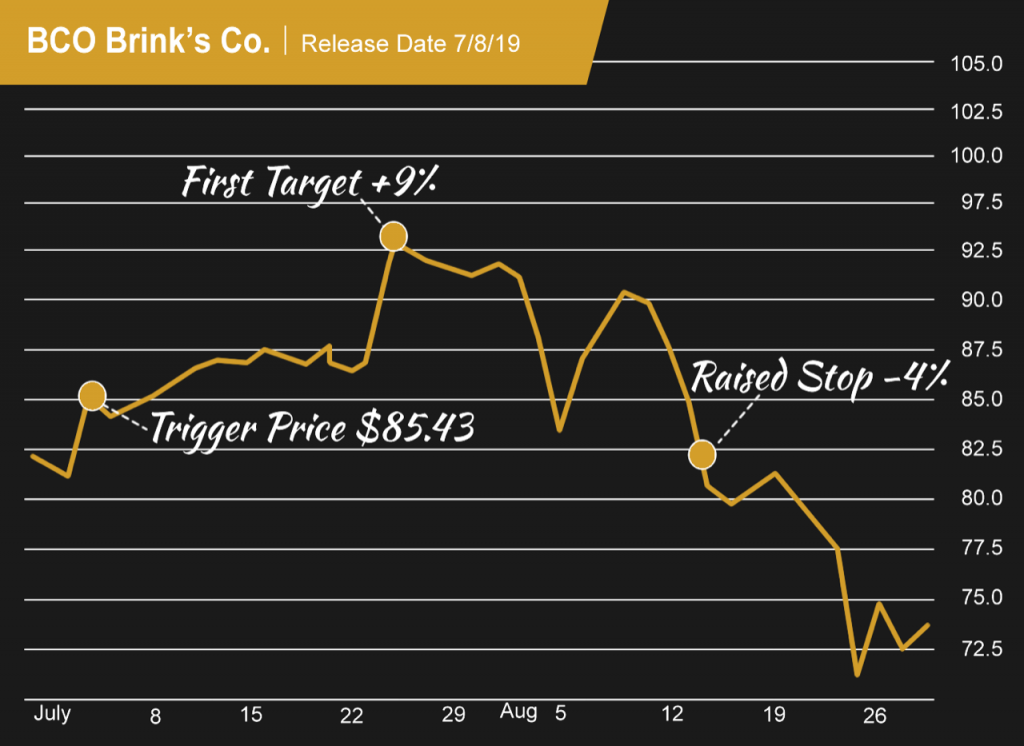 As usual, my subscribers sold 75% of their position at this point.
After this, Brinks' upward trend became compromised and it struggled to reach its second target, T2.
Even though Brinks was rising and displaying good strength….so much so that it's stop level and the second target were raised several times along the way… it reversed soon after, trading below its trigger price of $85.44, and eventually trading below its raised stop level at $82.
That is a 4% loss. But my subscribers already booked a 9% profit by selling three-quarters of their position at the first target, or T1.
This means that, in spite of the eventual 4% loss, the net result of this trade was a 6% profit.
This is how you should use the Double Target Strategy to minimize losses, while maximizing profits if you become a subscriber to Gorilla Breakout Alerts.
Options Trading Alerts
If you are an options trader, there are two ways you can trade options using our Gorilla trades service:
i) Trade Our 'Option Idea of The Week'
When you sign up for Gorilla Breakout Alerts, you will also get exclusive access to our 'Option Idea of the Week' newsletter.
Now, this is a free bonus service that comes attached with your Gorilla Breakout Alerts subscription.
As per this service, every week you will be sent one option trade along with an exact entry point and an exit point…
These trade alerts are meant for options traders seeking quick profits that can go up to 50%-100% in a few weeks' time.
ii) Buy Options of the Stocks In The Model Portfolio
All the stocks listed in the Gorilla Model Portfolio are considered to be in a strong uptrend.
If you are an options trader, this means that you can purchase the call options of this stock and make money as the stock continues to soar upwards.
But remember that this option strategy is suitable for only VERY aggressive subscribers who have some previous experience in options trading. Because if a stock which was expected to rise turns around and drops significantly, you can lose the entire money you spent buying the option contract of that stock.
That said, option trades can also make you attractive gains returns ranging from 10% to 100%…or more in a matter of a few weeks.
Note: If you are a pure option SELLER, this strategy is NOT for you. This strategy given below is about how to make money by PURCHASING options.
You see, even though all the stocks listed in our model portfolio are considered to be in the middle of a strong upward trend, you should be very selective in your option trades.
Remember that ALL options trades are risky.
As an option buyer, you stand to lose all your money when an option trade goes against you.
That is why, to improve the win-rate of your trades, it is highly recommended that you ONLY buy options on the stocks that have "confirmed."
And once a stock in the Gorilla Model Portfolio has reached the "confirmation day", you just need to follow the 3 simple rules to trade the options of that stock…
RULE 1: Buy the most immediate, "in the money" call option.
For example, if the confirmed stock is trading at $102 then the strike price of the most immediate "in the money" call option would most likely be $100.
The point here is to buy the option contract that has the strike price which is closest to the current trading price of the stock, but still below it…what options traders refer to as "in the money."
RULE 2: The expiration date of the call option should be 3-4 months out
Say today is July 1st, and you wish to buy calls on a "confirmed" GorillaPick. This means you should consider purchasing either the October or November $100 strike calls. If option contracts are not available for a stock in this 3-4 month period, you can purchase contracts six months out.
Note: In no case should you purchase an option contract that expires beyond 6 months.
RULE 3: You must set your own target and decide your exit strategy
Please note that you will not be given a set target price to exit your option trades. You can choose to hold the option contract as long the underlying stock remains in the Gorilla Trades Portfolio. However, you, and only you, should decide your profit target percentage, and select an exit point based on it.
Let's assume that you have purchased the $100 strike call option contracts for $5. As the underlying stock value rises 1%-10% in price, the value of this option contract can rise to a level between $5.50-$7.50 or even more. But if your profit target from this trade is 10%, you should sell the contract and exit the trade when the contract reaches $5.50. On the other hand, if you an aggressive trader, you can set your profit target as 50% and can wait for the contract to hit the price value of $7.50.
Again, your profit target percentage depends on your risk appetite and your trading style.
Just remember the old axiom in trading; "Don't get greedy. Pigs get slaughtered."
To recap here are the 3 simple rules:
RULE #1: Buy the most immediate "in the money" call option.
RULE #2: The expiry date of the call option should be 3-4 months away
RULE #3: You must set your own target and decide your exit strategy
Follow these rules and you can take your options trading game to the next level…
That said, subscribers who have no previous experience in options trading are advised to use extreme caution using this strategy or refrain from in altogether!
Who Should NOT Use The Gorilla Trades System?
The Gorilla Trades system is NOT for the hard-core buy and hold investors long term investors.
You have to be willing to get into and out of positions on trades that last a few weeks or a few months and make quick short term profits.
This does not mean you have to bet your money on high-risk trades. Our system itself is purposefully designed to be a risk-controlled system.
We control the risk by taking a diversified approach to picking stocks, and by using tight and diligent stop losses.
Here is the thing…
In this subscription, since you get trading opportunities almost daily, you will never invest more than 10% of your total investment in a single stock.
In addition, the system is designed in a way that you will almost never lose more than 10% on a single trade.
This means the maximum you risk losing in a single trade is 1-2% of your total account value.
Bonus Services
As part of the subscription, you will also get other bonus services like Gorilla Express Picks and Gorilla Small Cap Alerts.
Gorilla Express Picks: These are option trades recommended by the Gorilla to make some great profits in a very short period of time.
Gorilla Small Cap Alerts: Whenever Ken comes across a small-cap company with an impressive new technology that is steadily gaining market share, he will investigate such stocks.
If under closer inspection, he finds them attractive at the current price and expects them to soar 100%-1000% in the future, those stocks will be given a buy signal and be will be added to the 'GorillaPicklet Portfolio'.
This small-cap recommendation service is just a bonus service that comes free along with your subscription. Thus, you would get these recommendations only occasionally.
Some of the recommendations given in the past have soared 1967%, 611%, 238%…and these three are still open positions in the GorillaPicklet Portfolio we expect them to gain even more market share and become giant players in their respective fields of operation.
What Other Subscription Services Are Offered By Gorilla Trades?
There is only one service offered by Gorilla Trades and that is the Gorilla Breakout Alerts.
Other add-ons like options trading recommendations, small-cap alerts service, special situation picks come along with your subscription as a bonus. We do not upsell any other service.
All our energies are directed towards providing for the subscribers of Gorilla Breakout Alerts.
Trader Tools You Get Access to As a Subscriber
As part of the subscription you get access to the following tools:
Portfolio Screener:
At any given moment, you can find dozens of stocks in the Gorilla Model Portfolio and you might not want to invest your money in ALL of them. In fact, if you did, your portfolio would be considered WAY over-diversified. You should never have more than 5% of your funds invested in any one stock.
In that case, you can use this filter to identify the specific stocks in the Gorilla Model Portfolio that matches your criteria.
For example, you can use the portfolio screener to filter and find the stocks in the portfolio based on criteria like risk rating, price of the stock and volume levels of the stock, reward-risk ratio, etc.
The Banana Barometer:
There are few technical indicators that are as reliable as support and resistance. Using this tool, you can find the immediate support and resistance levels for all the 3 major market indices- the S&P 500, the Nasdaq and the Do.
These levels will give you an indication of when the extreme bulls and extreme bears will enter the market in maximum numbers to rescue a falling market or short a soaring market.
You should keep an eye on these levels to determine when you should be more aggressive and when you should be more conservative with your investments.
The Gorilla Graph Search:
You can use this tool to get a quick snapshot of the stocks listed in the Gorilla's Portfolio.
You just need to enter the ticker symbol of a stock, and it will show you the graph of the specific stock marked with the important details of the trading parameters like its Trigger price, Target prices and Stop level.
The graph also includes daily volume levels so you can get a visual of the strength behind each stock's move.
Our 15-Year Track Record
The Gorilla Breakout Alerts service has been running successfully for over 20 years.
During this time, we have recommended hundreds of stocks to trade and every recommendation given has been recorded with the exact details like entry price, exit price, date of recommendation and the % Profit/Loss made on every trade.
In the link given below, you can access all the trades that are ever signaled in our Gorilla Breakout Alerts service for the past 15+ years.
It has all the relevant details of every stock recommendation we have made since 2006.
Click here to download our Track Record sheet for all the recommended stock plays since December of 2005.
FAQ
How many stock recommendations will I get?
There is no fixed number of recommendations per day. Because we do not give recommendations just for the sake of it.
We only give alerts of high probability stocks that are on the verge of a breakout.
So, in a bull market, you will find a lot of stocks getting triggered and being added to our model portfolio…and if the market is crashing down, we go into a safe play mode and you will be given relatively lesser number of stocks to trade.
But on average, you will get 2-3 stock recommendations per week.
Will I get stock recommendations daily?
Every evening after the market closes, our Breakout Scanner will screen the entire 6000 stocks in all the three major markets to identify the stocks that are on the verge of a breakout.
These stocks selected by the Scanner will be listed in the Gorilla Watchlist as a potential trade along with a trigger price to enter the trade.
Now, we cannot guarantee that a breakout opportunity will be available in the market every day. There will be days when the Scanner wouldn't find any new trading opportunities.
What is the Gorilla Watchlist?
Gorilla Watchlist is a list of stocks that should be considered for potential purchase. Each stock in the Gorilla Watchlist has a trigger price. When the stock hits the trigger price, you should buy those stocks and the stocks will be moved to the Gorilla Model Portfolio.
Will I get the entry point and exit points for the recommended stocks?
Yes, for every trade you will get
An Entry Price
Two Profit Targets, T1 and T2
A Stop Loss
Why are two target prices given for each trade?
Two targets strategy is created to help you in 'letting the profits run' while at the same time to protecting the profits you already made.
Here how it works…
You will be given two targets for every trade- T1 and T2.
The first target (T1) is a fixed price point and you will sell 75% (50% during bull markets) of your positions when the stock hits the 1st target.
The second target (T2) is subject to revision and will be raised or lowered depending on the strength of the stock.
How long would each trade last?
There is not a fixed time frame for the trades recommended. The trades will go on as long as a stock either hits its targets or its stop loss.
Do you give option recommendations?
We give weekly option recommendations service, 'Option Idea of The Week,' comes as an add-on bonus with the Gorilla Breakout Alerts subscription.
But only high probability trades are given as part of this weekly options alert service. There will be weeks when you will not get any options recommendations.
If you want to trade more options, you can do so by trading the options of the "confirmed" stocks listed in the Gorilla Model Portfolio, using the Express Picks feature.
Do you have a monthly subscription?
We do not offer a monthly subscription.
Do you sell any other products?
Gorilla Breakout Alerts is the only product we have. We do not make any upsells once you buy the product.
Do you have a refund policy?
We do not offer refunds. Instead, we have a free 30-day trial which you can avail without giving your credit card information.
Testimonials
My Little Pile of Money Is Growing
"I have been doing the Gorilla for about three or more years. I have had up weeks and down weeks. I bought stocks when they triggered. I bought stocks when they confirmed. I made and lost money in both areas. I have not hit it big because I don't have a large pile of money to invest.

My little pile of money is starting to grow. The reason it is growing is because I now follow all the suggested rules of the Gorilla. I only buy when a stock has confirmed, I enter a sell price and a stop loss, and I follow those rules to the 'T'.

Guess what? My little pile of money is growing faster this year than it did last year, and I hope in 6 months to be buying more shares than I currently can buy. Hopefully, that will make my pile grow even faster. When that happens I might just become a Gorilla and if that occurs, my next goal will be to become King Kong and then I will be on top of the mountain…..at which point in time the 'tortoise' will become the 'Hare'. (to be continued)"
The Gorilla Trades system is my financial bible.
"I have had much success with very little money, and Gorilla Trades has allowed me to stay optimistic that someday I will get my nest egg back. I had money that I poured into the stock market a few years ago and I was making money without even trying. When March of the next year rolled around my life changed dramatically. I held on to a few stocks for way too long and when I finally got out of them. I had lost a bundle. Since I have been with Gorilla Trades I am learning as I go. Sometimes I make money and sell too fast and then watch a GorillaTrade continue to rise. That is my fault and hopefully I am learning to be a little smarter with my trading habits.

I am a Christian and trust God for my well-being and use his book, the Bible, as my guidebook. Well, the Gorilla Trades system is my financial bible. I trust the Gorilla and his views, and I know that not every trade will come up a winner, but the safeguards suggested by the Gorilla will keep anyone from failing if they use the Gorilla Trades system.

With what little money I have I'm making money using Gorilla Trades and I stay confident that my money will continue to grow and allow me more success with this fantastic system. My best wishes to the Gorilla and if he ever wants to put his life story in print, I hope he would consider me and allow me to write the book for him."
We are thankful and very appreciative.
"It is a pleasure to share my mistakes with your subscribers as well as my successes. As a longtime subscriber I have been along for a very informative ride. The setbacks of the last recessions when I was only a casual follower cost me a significant portion of my portfolio. Fortunately, I had enough capital and sense to learn from these mistakes and began following GT closely. The net results have been extremely worthwhile both in following stock info as well as option suggestions.

Since those dark days I have been able to not only recover my losses but have been able to continue to grow my portfolio at a rate of over 18% a year. At 71 years old it is important to manage and invest intelligently. The GT info has allowed me to do this.

For that we are thankful and very appreciative"
I would recommend Gorilla Trades.
"I had a small IRA with $15,000 in cash. I thought I could make money trading because I thought I was smart. I received an email from an option trading service promising easy money trading options. The service wasn't cheap and actually delivered 6-7 option trades each week. It was too many to keep track of and before I knew it, my IRA was reduced to $2,000. I felt so foolish! I read about Gorilla Trades in IBD and decided to try it. Gorilla Trades not only selected stocks that were expected to make fast upward moves, but it provided 1st and 2nd target levels for those stocks. Additionally, each week they usually provided an option strategy with a price objective for the stock, at which point to take your profit. These were short-term options, expiring no more than 2 months out. Over the 9 months I've been trading, my IRA has more than tripled to over $12,000. The profit on each trade has been about 50%, with the average holding period less than a month. So, when you annualize the percent gain, it's a high 3-figure number. The average cost of the option premium for me was about $500 (the most I could lose on any one trade). I would recommend Gorilla Trades, especially for IRA accounts, because there is no immediate tax liability, so your account can grow tax free until you withdraw money"

Far greater than any other service.
"When I started investing and losing money, it didn't take long to understand that what was required was full-time dedication, powerful analytical tools and techniques, an understanding of market dynamics, and the skills to apply them. I bring none of that to the table. The only way for the average person to obtain those essentials is to buy them. As opposed to other services I have tried, the Gorilla's methodology provides all those prerequisites and his trading philosophy aligns with mine. Successful trades in either up or down markets, short and long-term positions, and high risk/reward situations are all researched and provided. What I am sure of is [that] suggestions that are made by the Gorilla are made with a foundation of analysis and expertise far greater than anything I am able to do, and, far greater than any other service of its kind that I am aware of."

* Please note that this happened during the dot-com era, and Ken used both margin and options to leverage his account. This result is not typical and it would be very difficult to produce this type of return in the stock market today.