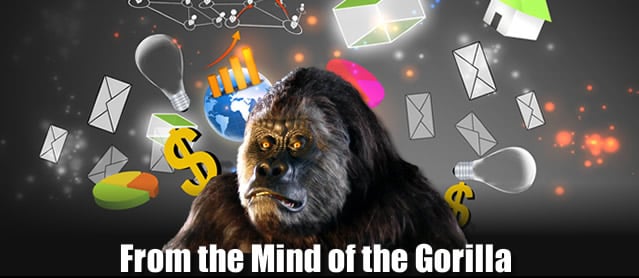 Well, as it looks right now…
Joe Biden will be the next President of the United States – at least for the next four years – the way our political system is looking, who knows what will happen after that.
However, if there is one thing the Gorilla is NOT – is political…
So, the only thing that I'm thinking about is how to make money through smart and savvy investing, that being the case – if Biden is our next POTUS – there's something we need to discuss as investors…
Where are the profit opportunities going to be now?
It's an interesting question just on the surface, but with his health advisor mulling over another national lockdown over the spiking COVID cases – this question is more important than ever…
Because if we are about to go into another lockdown – what should investors be looking to do with their money?
I know what many of you are thinking…
"Not another lockdown!"
But unfortunately for us, and the rest of the world – COVID-19 is roaring back to live – as the weather turns cooler and more and more people are spending more and more time indoors.
Cases are spiking…
And some officials are nervous that our hospitals won't be able to handle the cases coming in – which is a prudent worry – as it seems that our hospitalization levels are getting close to their peak.
The good news is – it seems that help as on the way – as Pfizer (PFE) just announced that the vaccine it has been working on is almost ready – and we could see doses going out as soon as this December if not early next year.
So, that's the good news…
The bad news is – the cases are spiking NOW – so Biden's health advisor, Dr. Michael Osterholm, seems to think that a U.S. lockdown of 4 to 6 weeks could control pandemic and revive the economy.
Of course…
Biden has gone on record and said that he wouldn't lock down the economy again – but he may need to listen to his experts if he wants to avoid ridicule.
So, while there is nothing set in stone yet…
The fact is – we could find ourselves in another national lockdown after January 20th.
If that's the case, then investors need to have a plan – as not having a strategy going into a second nationally mandated lockdown would be a mistake on our part.
So…
That said – let's talk about a few stocks that could help us get through it.
The first being what you'd expect…
Amazon (AMZN) – of the companies that took a hit during the first lockdown – Amazon wasn't one of them – as the price of shares have done nothing but go up for Jeff Bezos's baby.
Probably had something to do with SO many people buying their goods online – as opposed to potentially exposing yourself to people in public – which is why they watched their profits soar.
It's a smart move in general to have a piece of Amazon – but at a share price sitting north of $3K – it's not the most affordable on the list…
But it's definitely a way to watch your money GROW during another potential lockdown.
Another stock that did really well over the pandemic?
McDonalds (MCD).
What makes McDonald's a smart pandemic play? Well, the fact that food is an essential service and people would just as soon run through the drive through (less contact) as they would going through a grocery store looking for something to eat.
So, McDonald's has the ability to be another strong move if we head into lockdown.
A third?
Walmart (WMT).
With some people not having the ability to make money – they need to make every dollar stretch as far as possible – and Walmart has the ability to do that…
And again, they're an essential business.
There you have it…
Three stocks that could help investors make it through another potential lockdown – without chewing the fingernails down to the bone.
Heck, you could even through Pfizer (PFE) on that list – as its vaccine would solidify its place not only on Wall Street – but in history as well.
Of course, there are other ways to get around the pandemic…
And GorillaTrades can help – as our recommendation service has become one of the internet's most trusted – so please, don't hesitate so become a subscriber.
However, if you'd rather be the captain of your own ship – we totally understand…
Just do yourself a favor and be ready if the mandate comes.
Planning ahead is half the battle!
"By failing to prepare, you're preparing to fail." – Benjamin Franklin