Invest like a professional!
Let your portfolio thrive with Gorilla Trades; the complete solution for today's modern investor. Gorilla Trades solves the problems of identifying the right stocks to invest in, knowing where to set stop losses, and when to harvest gains.
Subscribers love having the Gorilla on their side because even though they might have a hectic schedule, they are still able to stay on top of their investing with Gorilla Trades!
After your 30-day Free Trial is up, you can continue your Gorilla Trades subscription for just over a dollar per day!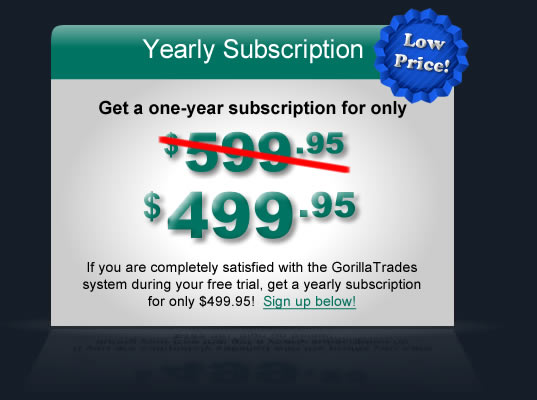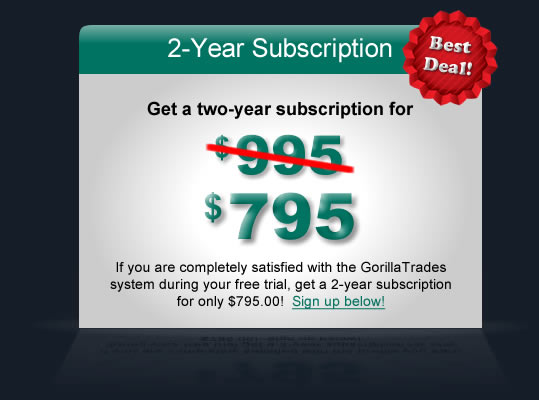 While you'd expect to pay thousands for a service like Gorilla Trades, for a limited time,
you'll pay only $499.95/yr after your 30-Day free trial!
Terms of Service.
*For institutional investors looking to purchase multiple subscriptions, please click here to contact us for additional information.
Try it BEFORE you buy it, with 30 days of access to the acclaimed GorillaTrades service!
Enjoy FULL subscriber benefits like:
✓
Access To Member's Only Website
✓
Daily Stock Picks
✓
Weekly Options Picks
✓
Small Cap Stock Picks
✓
Short Picks
✓
Free iPhone App
✓
Afternoon Market Update via Email
✓
Nightly Newsletter
✓
Real-Time Market Alerts via Text Message
And Much More!
Easy Sign Up!
Simply enter your name and an active email address to immediately begin receiving the Gorilla's expert market advice delivered directly to your inbox each day!
You've got a life and things you're passionate about. Leave the investing research and guidance to us, we'll leave you to the
things you love (including profit taking)!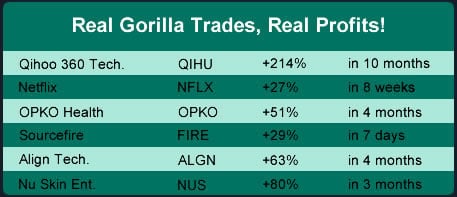 As per our privacy policy, under NO condition will your email address EVER be shared with ANY other company! Your security is a top priority to Gorilla Trades. This online form is fully secured by Equifax.

The Gorilla's Personal Guarantee: If for any reason, you are not completely satisfied with the GorillaTrades service, you may cancelat anytime during the 30-day trial period, and you will not pay a single cent! NO fine print and absolutely NO strings attached!