Subscriber Benefits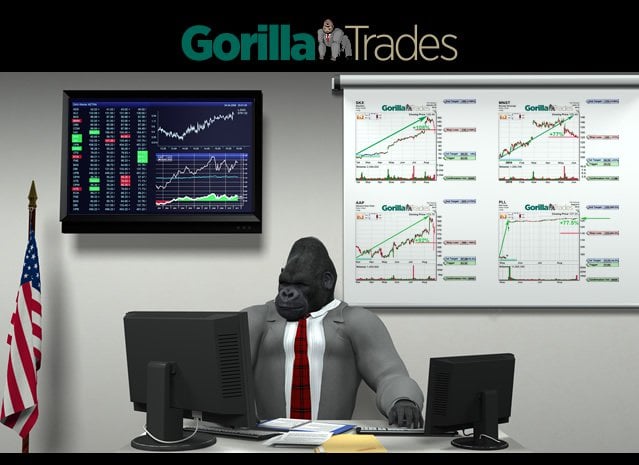 GorillaTrades Subscribers Enjoy Benefits Like:
Access To Member's Only Website

Enjoy full access to all of the Gorilla's expert trading ideas, educational materials, tutorials, and more!

Daily Stock Picks

The Gorilla's daily stock picks come with specific instructions for each trade. Each GorillaPick that is recommended includes the EXACT recommended entry and exit points such as stop losses and targets, along with a chart illustrating the stock's recent activity. The Gorilla tells you EXACTLY when to buy and EXACTLY when to sell. There is no guesswork!

Weekly Option Picks

Each Option Idea Of The Week is clearly explained with the exact parameters needed to execute the trade as recommended, including the ideal price at which to purchase and sell each individual call, the suggested number of contracts, etc.

Plus An Additional Bonus Options Strategy!

A simple options strategy that even the most advanced trader can appreciate.

Small Cap Stock Picks

As an added bonus, the Gorilla also recommends small cap stock picks called GorillaPicklets and Special Situation Picks. Both of these recommendations are subject to the same strict criteria as our flagship GorillaPicks but they have a lower minimum share price, and are HUGE bonuses to the GorillaTrades system!

Short Picks

The Gorilla will recommend GorillaShorts when the market permits or the GorillaTrades system has identified a stock that may have the potential for technical problems, and may have a high probability for a decline in price versus the amount of potential risk taken.

Free iPhone & Android Apps

With the Gorilla's new iPhone app, it's never been easier to keep up with your GorillaTrades subscription while on the go!

Afternoon Market Update via Email

The Gorilla sends out a brief Midday Market Update each afternoon that the stock market is open, to keep you informed on the latest factors affecting the stock market at midday.

Nightly Newsletter

You'll love the Gorilla's no-holds-barred commentary, and benefit from the Gorilla's years of experience reading the market. So when the market starts to edge that way, you can already be prepared to capitalize.

Each evening, after the market closes, the Gorilla presents an in-depth analysis of the day's stock market action, breaking it down into engaging concepts and examples to build a deep understanding. With our stock email you'll never look at the stock market the same way ever again! Where else can you get a top stock market professional to give you his cutting-edge analysis, with no bias to advertisers, networks, or politics?

Real-Time Market Alerts via Text Message

GorillaTrades' subscribers can choose to be notified via text message whenever a stock enters into the portfolio, achieves its target price, or stops out of the portfolio; at no additional cost!
And There Is Much More!

All you need is your name and email address to gain instant access to all of the Gorilla's stock recommendations, options recommendations, newsletters and more, absolutely FREE for 30 days!
There is no fine print, no strings attached, and NO CREDIT CARD REQUIRED!