What Comes With Each Stock Pick?
Click the blue orbs for an explanation of each part:
Take a look at the example stock pick below to see how the Gorilla Trades stock trading system can help you invest like a Gorilla.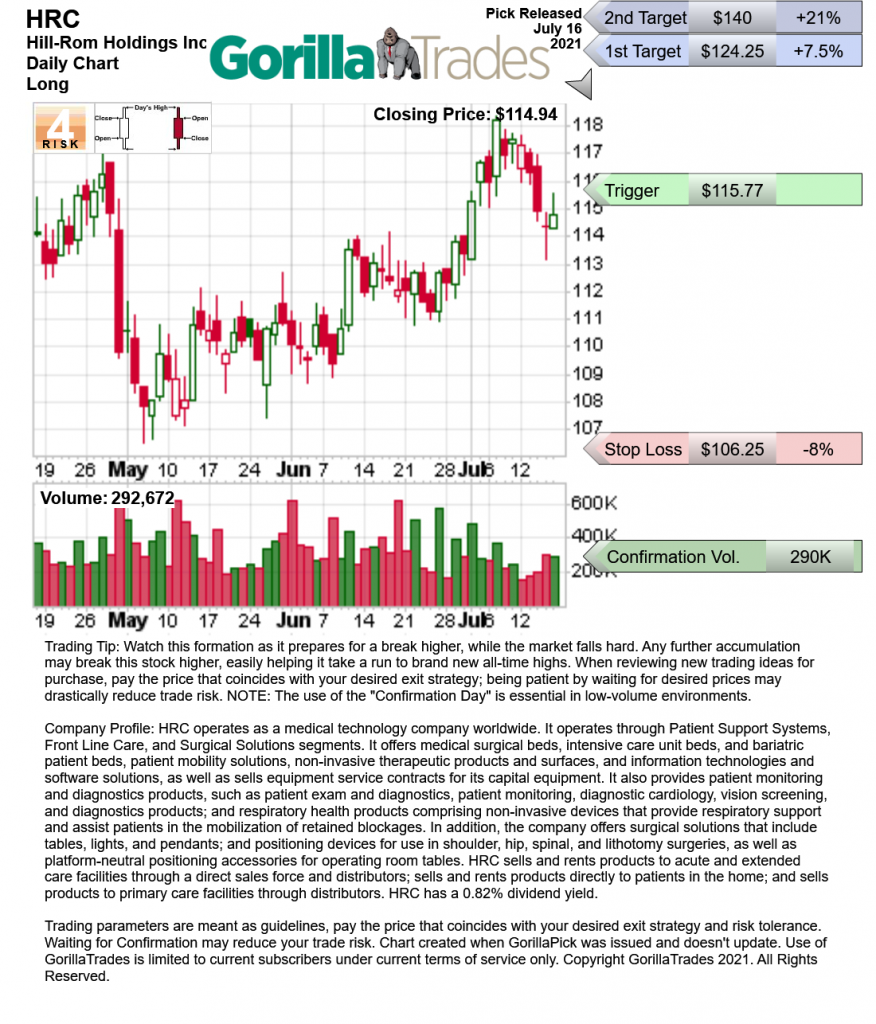 HRC operates as a medical technology company worldwide. It operates through Patient Support Systems, Front Line Care, and Surgical Solutions segments. It offers medical surgical beds, intensive care unit beds, and bariatric patient beds, patient mobility solutions, non-invasive therapeutic products and surfaces, and information technologies and software solutions, as well as sells equipment service contracts for its capital equipment. It also provides patient monitoring and diagnostics products, such as patient exam and diagnostics, patient monitoring, diagnostic cardiology, vision screening, and diagnostics products; and respiratory health products comprising non-invasive devices that provide respiratory support and assist patients in the mobilization of retained blockages. In addition, the company offers surgical solutions that include tables, lights, and pendants; and positioning devices for use in shoulder, hip, spinal, and lithotomy surgeries, as well as platform-neutral positioning accessories for operating room tables. HRC sells and rents products to acute and extended care facilities through a direct sales force and distributors; sells and rents products directly to patients in the home; and sells products to primary care facilities through distributors. HRC has a 0.82% dividend yield.
Trading Tip: Watch this formation as it prepares for a break higher, while the market falls hard. Any further accumulation may break this stock higher, easily helping it take a run to brand new all-time highs. When reviewing new trading ideas for purchase, pay the price that coincides with your desired exit strategy; being patient by waiting for desired prices may drastically reduce trade risk. NOTE: The use of the "Confirmation Day" is essential in low-volume environments.