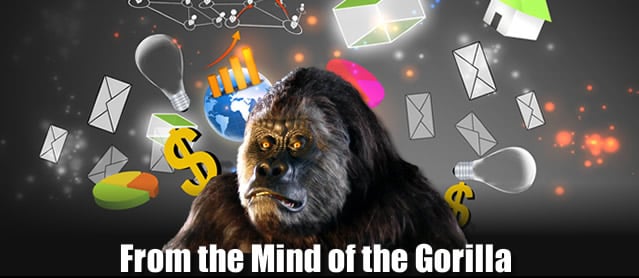 This may be a little "late" to say – but the fact is…
Almost every investor I know, including me, tends to look forward to the New Year – as it does bring a bunch of new opportunities for us to make money.
There are PLENTY of ways to make money in the markets…
However, there's one that can pay off more than almost any other – if you're fast enough.
Now, like with all investment, these potential profit builders do have a downside too – they can be risky – but if you know what you're doing or can access the internet and do a little research…
They could make you wealthier than you could imagine.
Now…
Before we get into what these veritable cash registers are – I have to warn you – you'll probably NEVER come across these money builders on GorillaTrades.
If that line has you scratching your head and saying, "Then why are you talking about them?" – I'll tell you…
It's because how they go is VERY good indication of health of the market overall.
If the market's flat…
We may get NONE of these special events.
If the market's hot…
We may get enough to change the course of your financial future.
Have you figured out what I'm talking about yet?
It's IPOs – or Initial Public Offerings – and 2020 looks to be FULL of these moneymakers.
There's whispers of us having as many as there were in 2019 – and since we had 150 new companies file for an IPO…
2020 could be glorious.
That said…
The nature of IPOs don't really fit well with the dynamic information index that the GorillaTrades system uses to find the recommendations that we put out. It's just too static…
So, that's why I said – you probably won't see one in one of GT's profit alerts.
And…
These things may be something you want to act on of your own accord…
So, I wanted to make sure you were informed – just in case anything that comes out this year looks promising.
As I just said, 2020 looks STACKED with IPOs…
And I wanted to give you the top 3 that you may want to look at and see if there's something there for you.
Ready?
Postmates
With operations in almost 3,000 cities nationwide, Postmates rivals fellow delivery services in their presence…
The big difference between Postmates and companies like FedEx (FDX) or UPS (UPS) is its on-demand delivery and pickup platform delivers food, groceries and other retail goods using a mobile app and GPS.
In September 2019, Postmates reported raising $225 million, led by GPI Capital at a valuation of nearly $2.4 billion.
Postmates was scheduled to go public in late 2019, However, market conditions turned against tech companies – which may be why it waited a bit longer – and still haven't said when it'll debut.
AirBnB
The home-sharing rental service, Airbnb, recently talked about plans to publish annual reports for stakeholders — a move leading up to an IPO.
Apparently, the company has raised nearly $4.4 billion over 15 funding rounds, giving it a valuation of around $35 billion – meaning that the company doesn't need the money most companies go after in an IPO.
Despite that, Airbnb is expected to go public sometime later this year using a direct public offering — where current shareholders can trade shares, but no new shares are issued.
But the best part? The company signed a deal with the IOC reportedly worth $500 million to provide "guaranteed" accommodations for the next five Olympic games… WOW!!
And last – but not least…
Robinhood
You may already know this company…
They operate an app that allows you to trade stocks online for VERY low fees.
How low? Well, Robinhood was the first to offer free, no-fee trading – which is unheard of…
But definitely shows you why its so popular among millennials.
In a little more than a year, the platform has reached nearly 10 million users, up from 4 million in 2018.
In July, Robinhood announced it raised $323 million in funding, setting a valuation for the company of around $7.6 billion.
These companies seem like they can't miss…
Now, like I said, it's highly unlikely that these companies's IPO's on our recommendation emails – as the way GorillaTrades work is a bit more dynamic.
If you'd like to see how we give every trading recommendations a run for their money – I urge you – consider joining today…
If not, no worries…
Just keep your eyes out for these hot prospects coming throughout the year.
"It is a capital mistake to theorize before one has data. Insensibly one begins to twist facts to suit theories, instead of theories to suit facts." ― Sir Arthur Conan Doyle, Sherlock Holmes