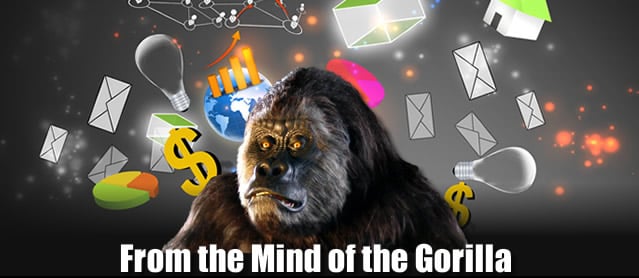 With all the turmoil facing our country at the moment – it seems like a lot of things are slipping through the cracks…
Or, at the very least, sliding right under the radar as the world is more preoccupied with the protests and strife that are affecting almost each American city.
That said…
Even though the world is focusing on the battle for injustice – the world still moves. Business never sleeps – and money has to be made…
But knowing where that money can be made is just as important as the money itself.
What has been happening in the markets seems to almost be the opposite of what is happening in the streets…
People are celebrating the flood of cash back into the market.
Stocks are soaring – but for those who took a time-out and are looking to jump back in – it may be hard to know where to best put your money (unless, of course, you're a subscriber to GorillaTrades)…
However, if you've been paying attention – you'd probably know some of the best places to look.
It doesn't take a Wall Street big wig or stock analyst to figure out…
All you have to do is watch the news.
Now, with everything going on, and all the protestors in the streets – you may not remember – but we're still in the middle of a global pandemic.
At no point has there been any marketable cure or vaccine created for COVID-19 – so while the protests are still happening…
Science has still been searching for some kind of therapy to combat the virus that has decimated the world's population – including right here in the United States.
Health and healthcare is still something that many people are focused on…
And while the almighty eye of the media shifts its gaze toward protest and riots – science has still been hard at work to find ANYTHING that will help us battle COVID-19.
Which brings us to one of the first companies you may want to take a look at.
With the threat of life-threatening illness closer than ever – many people have found it prudent to ensure that if they were to catch the disease – there would like to guard themselves from financial ruin if they had to be hospitalized with the virus.
So, how do you do that?
You get insurance.
Now, while there are TONS of insurance companies in the sector – Humana's (HUM) large size and diverse business strategy sets it apart from a lot of competition – especially in the Medicare Advantage (MA) market.
It's this size, diversity, infrastructure and reputation that puts the company in a prime spot for being one of the stocks that can pull in old AND new investors either back into the market – or in for the first time.
One Goldman Sachs analyst said about Humana, "Importantly, continued growth in this end-market also has a more pronounced impact to HUM's bottom line versus other managed care organizations (MCOs) given HUM's more concentrated exposure to MA."
Because, while previously, the company had no problem getting eyes from the MA industry upon them – it'll be even more pronounced now – as the industry has avoided a downturn due to the COVID-19 effect.
With everything HUM has going for it (a big name in a healthy market) – some analysts see the stock soaring as much as 31% in the next year.
But healthcare isn't the ONLY "med" stock that you can look at…
As seeing as the COVID-19 affects those with immune-deficiencies more than almost anybody else – helping find new ways to both identify and treat diseases to increase said disorders is in HIGH demand.
Enter Adaptive Biotechnologies (ADPT).
The company, again, according to Goldman Sachs – owns a strong portfolio of elements that could make it HUGE in the future…
Its immunoSEQ platform is used in both academic and biopharma research while its clonoSEQ was developed for a clinical setting which will be able to detect minimal residual disease (MRD) – something that will be beneficial to the pandemic right now.
But as valuable as it may be – it may have a better platform in development – immunoSEQ Dx (a collaboration with Microsoft (MSFT)) is also in it's pipeline that features the Amgen-partnered COVID-19 program.
This thing has HUGE potential – and some analyst see this stock climbing 55% or higher over the next year as well.
Not bad, right?
If you've been holding back from jumping into the market – you could start in a worse place than with these two stocks right here.
Though…
If you REALLY want some thorough guidance – you may want to consider becoming a subscriber to GorillaTrades. We literally do all the work for you, except for pushing the "buy" button…
If you're interested in accurate recommendations – please consider subscribing today.
If not, at least you've got a place to start!
Good luck!
"Men love to wonder, and that is the seed of science." – Ralph Waldo Emerson