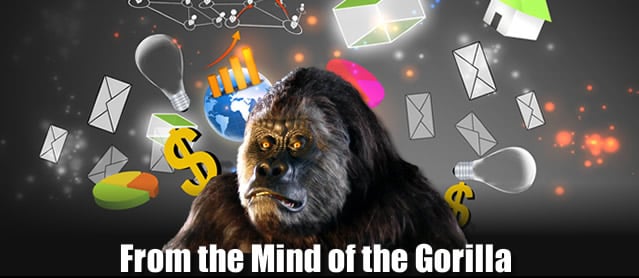 With the country in the grips of this global pandemic – there seems to be more questions than answers to a lot of the issues surrounding the coronavirus and it's impact on the nation.
How long will the shutdown last? How many people will get it? How many people will die? Will our economy recover? Etc, etc…
And with most of the America in either self or ordered quarantine – we have a lot of time on our hands to ponder what the answers to these questions may be.
However, if you're livelihood is tied to markets – there are OTHER questions you ask yourself: how low will it go? Will we see a huge rally? Are there any safe investments? Etc, etc…
But there may be one you haven't been asking yourself that you may want to consider…
Will there be ANYBODY who gets rich because of this?
Will there be any coronavirus millionaires?
Before we jump into the subject, I wanted to start with a statement that I think is important to say…
The Gorilla understands how tragic this world event is and this article in now way, shape or form is to belittle the horror that the coronavirus is having on the world.
But in times like these – we need to find way to occupy our minds with something positive, and the fact that somebody may come out on the other side of this wealthier than they went in…
And that is something that we can draw some good energy from.
Now…
Let's dive into the question:
Will there be ANY coronavirus millionaires?
Well, if you were to look at the markets right now, you'd probably say to yourself, "Uh-uh… no way – it's going to damn-near impossible for people to get rich until this is all over."
And of course, the Gorilla can see your logic in that thinking…
But you'd be absolutely wrong.
If you don't think that people are making money during these trying times – you're either very new to investing – or only dabble in trading…
For those of us who have made a living from investing – then you know that there are absolutely people getting rich right now.
Are you one of them?
Maybe?
It all depends on where you're putting your money right now, as there are some smart investments that could see you come out the other side of the pandemic with more cash in your pocket.
One of the areas that's getting a lot of attention right now is the biomedical industry…
The truth is, what's going to end the threat of the coronavirus is going to be a groundbreaking drug that will put an end to it – but until then – we'll have to make do with the drugs that have been showing some promise in at least fighting the disease.
One of those drugs that the President and his doctors have been talking about is the malaria-fighting drug, hydroxychloroquine…
Now, while this commonly used drug isn't a cure for the disease, doctors have found that by using it in combination with other drugs have had a dramatic effect on the virus and will hopefully give us a light at the end of this very dark tunnel.
That said – there are a few companies that make this drug that could be a smart play right now – as by the time this is all over…
They could become household names.
What we have for the companies that make this drug is sort of a "Goldilocks" kind of situation – as we have a small, medium and large stock you can look at.
The small?
Teva Pharmaceutical Industries (TEVA) is our "small" choice when it comes to promising drug investments – as it's pretty cheap, coming in around $8 (as of this writing) and could see a big bump if the orders for the hydroxychloroquine come rolling in.
Plus, if Warren Buffett's Berkshire Hathaway (BRK.A) owns it – would we be stupid not to look at it?
Our medium choice?
Mylan N.V (MYL) – this company is modestly priced at around $13 (as of this writing) and could be more your style if you're looking for something a little more robust.
It won't break the bank and could be a sleeper.
And finally, we have Novartis AG (NVS) – which is our big boy. This stock is hovering around $83 and could be on the cusp of stock superstardom.
All three of these stocks are worth a look and could be something that helps create the new crop of coronavirus millionaires that are sure to surface when this is all over.
Will you be one of them?
Who knows – but you can bet that GorillaTrades will be watching!
We're waiting for our FIRST profit opportunity since the big drop happened – and as soon as one shows its head – we're going to jump on it…
We'd love to have you there when it shows up – so please – consider becoming a subscriber today.
If not – do yourself a favor – and look into these three stocks…
You could have a bit of a silver lining on the other side of all this.
"Every crowd has a silver lining." – P. T. Barnun