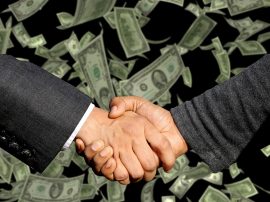 Whether you're a newbie at the stock market trying to build your portfolio, an experienced investor looking for potent stock picks, or you're looking for a tool to help you make wise investment decisions, then Gorilla Trades can offer you the service you're looking for. Why should you trust Gorilla Trades amongst all the other different stock-picking companies? Here's why you should trust the Gorilla's stock picks:
More than 20 Years in Service
Gorilla Trades has been in service for more than two decades, serving its subscribers consistently with reliable stock picks. With the Gorilla's 30 years of industry experience, there's no doubt that the system he authored is accurate and dependable. He also used the same technology to make substantial profits in the stock market before founding Gorilla Trades.
It's a service that a wide variety of traders can benefit from. If you're an active investor who is comfortable with earning short-term gains, then Gorilla Trades is an ideal choice. Even if you're a less experienced investor, then you can start by just following Gorilla Trade's stock suggestions together with specific instructions for entry and exit points, and how each trade should be carried out.
Provides History Data for Every Stock
What's great about Gorilla Trades is that they do the homework for you, which helps decrease your research time. You will beprovided with thorough company profiles on every stock pick, together with trading tips built off of stock tendencies. You will also be given directives on where to set targets, stops, where to buy, and when to reinvest for future success; including when to buy and sell. You will also have full access to the past trades made on the platform and the present portfolio, which allows you to assess how each stock picks have behaved in the past.
Once you've subscribed, you can keep track of all this information in Excel or through a web-based table that is updated every day. You can also see the past five days' worth of stock picks, even ones dating back to 2003!All this information will help you make wise investment decisions and help you gain a substantial profit.
Market-Tested and Proven Stock Picking System
Gorilla Trades uses a fairly aggressive strategy to single out profitable trades. This is done through our system that is capable of sifting through over 6,000 stocks each night to identify explosive stocks and the confirmation of its breakthrough. The parameters are is based on the 14 characteristics found in each stock that showed an explosive move upwards.
The results of the technical analysis are proven and market-tested to be accurate and true. This means that you can wait until an explosion is confirmed before beginning to buy. For every recommended trade, you will be provided with trailing stop losses to avoid losses that are greater than 10%.
Provides Complete Investment Guidance and Updates
Gorilla Trades will teach you exactly how to expand or diversify and properly handle your portfolio. You will also be taught the different rules of investing. Regarding the updates, an email will be sent out to you twice a day. The emails state the week's activities and the present status of the Gorilla Trades Portfolio, thorough discussion of the trends, stock picks that have been halted out over the week, news that shaped the larger market, and how Gorilla Trades' stock picks are doing compared to the overall market.
You will also have daily updates on stock picks after the system and analysts filters through over 6,000 stocks. And for every recommended stock picks the system will provide you will one or more entry levels, target prices, stop level, and a risk rating that depends on the unpredictability and risk-to-return anticipation of the stock.
Minimizes Loss
The Gorilla created the system in a way that eliminates emotions and guesswork out of the equation, so investors like you can make wise investment decisions. Emotions and inaccurate information are two of the biggest factors that can cause investors to lose money. Thankfully, with the Gorilla Trades' system, your losses are limited to 7%, while the gains can reach up to 15-40% plus. To achieve this, your stop levels will be monitored continuously,and it will be adjusted if the need arises.
Sign Up Today!
Let our results do the talking! To see for yourself why you should trust Gorilla Trades' stock-picking system, try our 30-day free trial. No strings attached. Visit our website for more information or click here for the free trial. Get inside the mind of the Gorilla today!