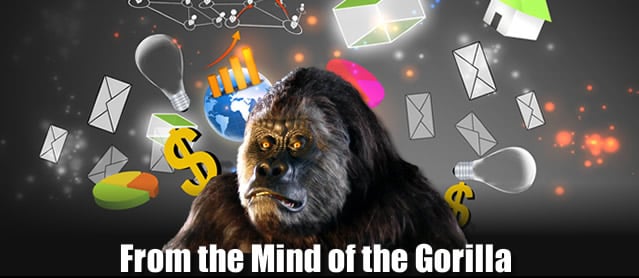 Well, the Oracle of Omaha has done it again…
The original Wall Street contrarian bucked the trend again and went against the rest of the big leaguers in the investing world – and it has people talking.
We shouldn't be surprised…
Afterall, he built a career on doing EXACTLY that.
But what he's doing this time – has even the most seasoned pros scratching their heads…
Has Warren Buffett lost it?
Or is he just showing everybody why he's the biggest living legend on Wall Street?
Warren Buffett has traditionally shied away from most tech investments – they have always been a little too unpredictable for his taste…
But last week – Buffett bucked this trend – when his flagship holding company and current GorillaPick, Berkshire Hathaway (BRK.A/BRK.B), dipped its toes in and bought shares of another current GorillaPick, Amazon (AMZN).
And while Buffett claims that he was not the one that decided to purchase a stake in Amazon, he was likely involved at some point in the process. Afterall, it is his company…
Which begs the question – Why?
Maybe it has something to do with the fact that Amazon shares have jumped nearly 15% since I first recommended the stock to GorillaTrades subscribers back in March (well before news of Buffett's investment broke), and a total of roughly 27% since the beginning of 2019…
So, maybe Warren and his Berkshire employees aren't quite as contrarian as we think.
But the fact that Berkshire Hathaway has gotten into the Amazon game has changed things up not just for Warren Buffett and company – it's shaking things up all over Wall Street.
Just the news of Berkshire Hathaway grabbing shares of Amazon helped send the price of the stock up over 3%.
And this isn't anything to shake a stick at…
For a company the size of Amazon – that 3% jump is equivalent to an almost $60 jump overall.
However…
What most of the investing world is trying to figure out is…
Why?
Why, after all these years, has Berkshire Hathaway finally decided to jump into tech?
Buffett always said that the biggest reason he's stayed away from MOST technology-based companies is the simple fact that he "didn't understand the products and markets well enough."
And that may be…
But something tells me that's never been the real case – as it wouldn't make sense for the man who is notorious for researching each and every aspect of a company – to not understand anything about the products – or to especially not understand the market.
Odds are…
It just wasn't rich enough for his blood – plus – the few times he did get in, it wasn't pretty.
Back in 2011, he decided to buy IBM (IBM) shares, plopping down $10 billion of his investors' money – some of which he had to wave goodbye to when he had to sell the shares seven years later at a pretty hefty loss.
But…
They haven't all been horror shows, as his venture into Apple (APPL) has paid off nicely over the past 3 years he and Berkshire Hathaway have owned it.
Not only has Berkshire's venture into Amazon helped Jeff Bezos' company – it has also given Warren's company a boost as well…
After the news came out – shares of Buffett's company rose 1%.
Now, normally, 1% wouldn't be a big deal – but for BRK.A, a stock priced at roughly 330K – 1% is a $3,300 price spike (Note: BRK.B is a current GorillaPick).
To some, this buy in represents something significant in the investing world…
But to those that have been paying attention, this is just another connection between Buffett and Amazon – as the two companies, along with JP Morgan (JPM) – have entered into a healthcare venture called Haven.
The one thing we can take away from this – is the fact that Buffett admits that he is human and not just an investing machine – as he admitted that he was "an idiot for not buying" shares in Amazon earlier.
Another takeaway…
You can never say never in the investing world – because just when you think you've figured everything out – the game changes.
It's always good to know that you can grow.
If you've found yourself at a sticking point and haven't really made too much cash lately…
Please, consider giving GorillaTrades a spin.
Let us help you move to the next level…
"For me, becoming isn't about arriving somewhere or achieving a certain aim. I see it instead as forward motion, a means of evolving, a way to reach continuously toward a better self. The journey doesn't end." ― Michelle Obama