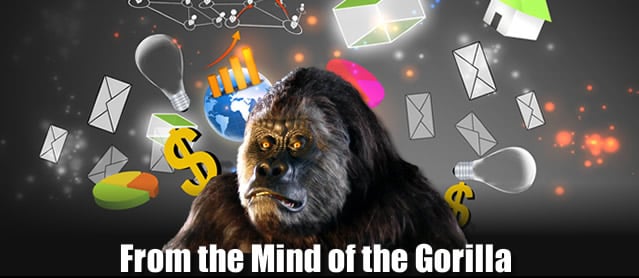 Wow… what a weird week for Apple (AAPL), huh?
CEO Tim Cook, made some revealing and unrevealing comments that have sort of taken Wall Street by surprise.
Surprised enough to initiate a pullback from buyers – which is even more surprising to me – because what he said is less important than what he revealed.
Cryptic, I know – but stick with me. Now, before we get into what he said…
Let's take a look at a few things that, if taken on their own, might have sent AAPL into the stratosphere.
There were some very interesting things revealed during the company's fourth quarter update…
The first being the fact that overall revenue for Apple has surpassed previous estimates and records to hit a whopping 16% jump from a year ago, to settle in at $266 billion.
Of course, with news like that – you'd think that investors would be hitting the "buy" button faster than you could say, "I miss Steve Jobs" – but obviously, there's more to this story as shares have dipped almost 7%.
Intrigued yet?
One of the other revelations was that of that $266 billion in revenue – $167 billion of that was brought in through new iPhone sales.
For those paying attention at home – that's almost two-thirds of the revenue brought in.
That's massive…
However, as big as this is – there's more!
Another massive number – Apple subscription-based services increased by a gigantic 57%  – jumping from 220 million to 330 million subscribers.
For those of you keeping score at home – that's 330 million people paying into a recurring revenue stream that's probably only going to get bigger going forward.
So far, nothing too negative, right?
So… why did shares drop? What did Tim Cook say that would "spook" shareholders so much that shares would drop almost 7%?
Well, the one thing Wall Street seems to be holding onto is that going forward, Apple will not be breaking down the sales results for its individual products.
And a collective gasp is heard around the internet…
So, this one little statement is what's changing people's minds on Apple?
Yes, and here's why…
By separating the revenue by products, investors get a feel for the market – and there have been rumblings around Wall Street that the Smartphone market has peaked.
That there really isn't many more buyers out there…
And the fact that Tim Cook wants to camouflage these numbers by just revealing revenue – solidifies this rumor to many around the investing world.
But is it true?
Well, it's hard to say…
I mean, how many more capabilities can it put into a smartphone? These things do EVERYTHING now – including running entire households – so what do the people think can happen with smart tech?
To be honest – I can't see Apple really doing anything – other than making its iPhone faster and/or thinner or more flexible.
That said – has the market peaked for smartphones?
I'll say, "yes" – but not because smartphones are dead…
But because that I believe we're seeing the peak of this FIRST generation of smartphones.
The past 11 years have been great – but it's time for something new – which I wouldn't be surprised to hear the big brains at Apple or even Samsung are already working on right now.
So what does that mean?
Well, all these people selling off are people who I believe aren't looking at the long-view…
They're only looking at the short-term – and with Apple – the short-term is rarely as attractive as the long-view.
AAPL was a recommended GorillaPick up until Monday, when it broke down from its trend and stopped out of the portfolio, producing a double-digit profit for our subscribers.
So, from a technical standpoint, there has been some short-term damage done. However, what we're seeing may be an incredible buying opportunity for those focused on fundamentals and interested in getting into Apple at a nice, low price for the long-term.
Honestly, I'm excited by this news…
In fact, I expect 2019 to be an even BIGGER year for Apple than 2018 was – so there's no way whispers about a potentially "peaked market" would force me to sell my shares.
In fact, I really believe it would be a smart move to buy even MORE!
But that's me…
What you do is totally up to you! As we here at GorillaTrades always say – do your own due diligence before hitting the buy button on any recommendation.
As always, the data speaks for itself…
Don't buy or sell on a false idea – do what we do here: go off what the data tells you.
All of our picks are based off data – which is what separates GorillaTrades from many of the other recommendation services out there on the web…
We don't work on gut feelings or hunches – we go with data and data only. Once a company meets all of the technical requirements of our trading matrix – that's when we send out the recommendation.
I'd love to tell you more about how it works – but it's better if you see it. We'd love for you to become a GorillaTrades subscriber – but understand if it's not your thing.
Just listen when I say…
Look at the data.
It'll tell you way more than any CEO will reveal.
"And above all, watch with glittering eyes the whole world around you because the greatest secrets are always hidden in the most unlikely places. Those who don't believe in magic will never find it." – Roald Dahl