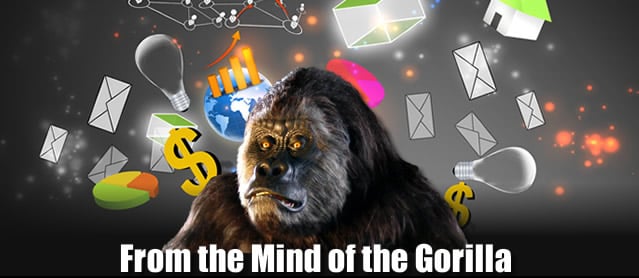 In South Florida, where GorillaTrades is headquartered, June 1st marks the first day when residents of the bottom half of the Sunshine State begin to collectively hold their breath for 5 months…
As June 1st is the first official day of hurricane season.
So far, we've had 11 named storms in 2017 with a few more weeks to go till we can all then collectively exhale.
If you don't live on the peninsula, South Carolina, Louisiana, Texas, or even the
Jersey Shore, hurricane season probably isn't that big of a deal for you…
But for us, June 1st marks the beginning of 5 months of dread – the whole time hoping we don't see Jim Cantore of the Weather Channel popping up on our TVs – telling us to "hunker down."
In the aftermath of Harvey, Irma and the threat of Jose (how they pick the names of these storms is anybody's guess, but they're in alphabetical order and the further we get down the ABC's the worse off Hurricane Season is) – I wanted to talk about something that seems to go hand in hand with hurricane season…
Making money.
I know what you're thinking… that it doesn't make sense, but take it from somebody that has lived in Florida for decades – the storm business is a very big business.
In fact, there may be no bigger purveyor of the storm business than the local broadcasts. In South Florida, the moment a storm floats off the coast of Africa, our newscasts become dominated by talk of "storm path" and "cone of destruction"…
Why?
Because nothing sells more or, more effectively, than fear.
And I'm not just talking advertising during the news or on the Weather Channel…
I'm talking everywhere.
If you've never experienced an incoming hurricane or tropical storm, let me give you a little insight into what happens in the week leading up to the actual storm.
First, there's a run on water and batteries from the grocery stores…
And as important as batteries are to run flashlights and walkie talkies – most electronics run on rechargeable lithium these days – so batteries aren't the important supply they once were.
Bottled water seems to be the first thing to go because that's what the news says you need most, "Stock up on bottled water because you may not be able to drink the water that comes out if there's contamination…"
They also tell you that if you're not able to get water and still have running water you may want to boil it, as that will get rid of many of the impurities that may come with it. But…
How do you boil water if you don't have electricity?
You use your propane gas grill, of course…
Which makes it one of the next resources to become a scarcity.
Since many companies have abandoned the refill option, the run on propane tanks at places like Walmart, 7-11's, local grocery and home improvement stores is fast and furious – and if you miss out – you'll be the guy trying to get his Weber hot enough to boil water.
But you know who doesn't worry about the propane tanks?
The people that have gas generators hardwired into their homes.
Since 2005's back-to-back to back hurricanes, many people just went ahead and had generators installed at their homes, as opposed to the portable gas generators that you can only plug 3 or 4 things into at a time.
These generators are wired RIGHT into the fuse box and can run the whole home…
As long as you have enough gas to run them.
Which brings us to our next resource on the run… gas.
If you want to see the very definition of frustration, pull into a gas station two days out from a storm. It's almost guaranteed that you'll be spending the better part of an hour or more in line with the rest of the people who need to top off their tanks.
Honking horns, aggravation and road rage are no way to enter into a storm…
When you get that worked up, you need a cocktail or two to settle down, which brings us to our next hoarded resource – alcohol.
I'm sure you've heard of hurricane parties – they are not myths. For some reason, there are some people who consider being locked inside for 6-12 hours under hellacious conditions the perfect time to "whoop it up."
Myself, I think it's better to have a clear head – just in case there's an emergency of some kind…
But I can see how escaping the stress of the moment though imbibing a few of your favorite cocktail makes sense to some people.
Hurricanes are good business for everybody leading up to it…
Water, gas, propane – those are the biggies – but even better? You can invest EARLY in companies that have stakes in these commodities.
Think about all the oil or propane companies you can make a quick buck from…
Or if you want to see one example in action, see what Nestle (NSRGY) did over the past few weeks.
Money was made…
But not nearly as much as what WILL be made when it's all over.
What do I mean?
The reality is, the REAL money is made AFTER the storm has blown through and the clean up and rebuilding starts.
Roofers, landscapers and handymen all have more business than the can handle…
And the price of EVERYTHING goes up.
A roof replacement that would normally cost you about $5K during the rest of the year will be almost double that after a hurricane…
The same goes for tree trimming.
And where do all these people get their supplies?
Big box hardware stores like current GorillaPick Home Depot (HD) and Lowes (LOW)…
You want to see hurricane profits at work? Take a look at what these two company's stocks have done over the past month – and you'll see what I mean first hand.
It's actually amazing to watch. Bottom line…
Hurricanes are good for all businesses – and while the population hates them – the fact is, the influx of money is needed.
I've got my eye on a few more companies that have the potential to do VERY well over the next month due to the storms that hit both Texas and Florida…
I'll be sending them out to my GorillaTrades subscribers as soon as I'm sure they'll be a right fit for the GT trading system matrix.
Believe me when I say, you'll want to be on the list to get that email – as it could be one of the biggest trades of the year.
Do yourself a favor and consider joining GorillaTrades…
Otherwise, you may miss out!
"For a seed to achieve its greatest expression, it must come completely undone. The shell cracks, its insides come out and everything changes. To someone who doesn't understand growth, it would look like complete destruction." – Cynthia Occelli