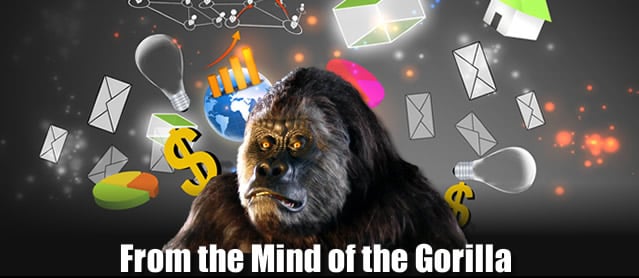 Wow…
What a week for one of the most recognizable brands on the planet, and current GorillaPick, Nike (NKE).
After unveiling one of their most controversial marketing campaigns – rabid fans of the brand made their opinions heard on both sides of the line…
However, the voices that spoke the loudest were those of shareholders, when a massive selloff caused the company's market value to drop by almost $4 billion – literally overnight!
This was a HUGE loss for Nike – but it remains to be seen whether or not this is something that's just a temporary blip on the radar – or a sign of things to come.
Either way, it brought up an interesting scenario for shareholders, and that is…
During a controversy – is it better to buy or sell?
Of course, most companies like to avoid the kind of attention that Nike gained over their newest campaign featuring a polarizing sports figure – the original anthem kneeler – Colin Kaepernick.
After unveiling him as one of the faces (there are many other faces that are a part of this campaign) – people on both the left and right sides of the political spectrum let their opinions be heard all over social media – with some of the most ardent proponents even going so far as to burn their Nike shoes and apparel.
However, here at GorillaTrades, we don't choose sides on politics – our only concern is how politics affect our ability to make money – and this controversy may be giving us the opportunity to do just that.
It's hard to tell exactly why the massive selloff of Nike stock happened…
It was probably a mixed bag of some people that disagreed with the use of Kaepernick, as well as some of the more tepid investors, who know that this type of news can be bad for business and unloaded shares before they could lose too much of their value – which in turn started a domino effect of fear and misunderstanding that may have forced others to sell.
However, that's the true question, right?
During a crisis or controversy – is it better to sell if you own stock? Or buy?
The answer depends on who you are.
There are some people whose principles wouldn't allow them to keep Nike shares – regardless of whether they went up or down…
Excluding the hardcores – what does the regular, every day investor do?
It's no secret that we here at GorillaTrades look up to famed investors like Warren Buffett, who is a man of vision in the investing world – and when it comes to scenarios like this – he's made his view very clear…
The consummate contrarian – Warren would say, "If everybody's selling, I'm buying. If everybody's buying, I'm selling."
And that's exactly what I think would have been the smart move on the day that the company's value dropped.
Let's look at this from a logical standpoint…
Nike is one of the biggest and most recognizable brands in the entire world – the likelihood of the company dropping to subterranean levels isn't high.
In fact, there doesn't seem to be anything to indicate that the almost $4 billion drop in market value wasn't just a kneejerk reaction to the controversy – making it a temporary issue.
That said, the smart move would have been to eat the seemingly temporary loss in value and possibly even buy more stock in order to potentially maximize your long-term profits on this juggernaut of a brand.
The thing about advertising campaigns is that they have an expiration…
Meaning they're temporary and once the campaign is done and over – people will soon forget why they were angry in the first place and Nike will continue to be the huge company that its been for decades.
If you sold your stock – you may never be able to recoup those losses.
Selling shares was probably the worst move you could make – because once you sell – you're rarely given the chance to get in at a lower price.
However, if you didn't own shares, we hope you took advantage of this dip in value and snatched some shares before they inevitably regain their value – and then some.
If I've said it once, I've said it a thousand times – the worst thing to do is make an investment decision based upon emotion. Emotion clouds your judgment when it comes to making money…
Which is one of the main reasons that GorillaTrades is such a successful investment service.
The GT trading matrix doesn't care about feelings – it cares about data.
Data is what you should base your stock moves on – not emotion – and we hope people learned a lesson from all of this…
Namely, to trust the data.
I'd love to show you how it works – which is why I'm urging you to consider becoming a GorillaTrades subscriber today. Take the guesswork out of investing and let us take care of everything.
It could be the best move you make to reach new levels of success in investing.
"Our minds influence the key activity of the brain, which then influences everything; perception, cognition, thoughts and feelings, personal relationships; they're all a projection of you." – Deepak Chopra