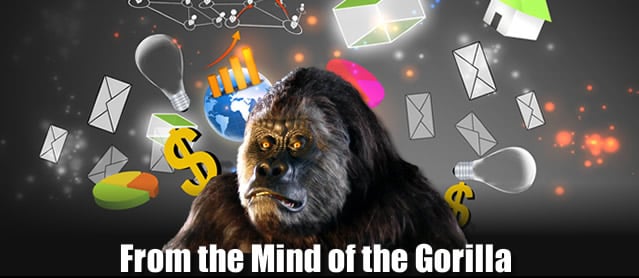 The fact that retail shopping still exists is a wonder…
Especially when you keep in mind that you can get the same things cheaper and relatively quickly over the internet – the fact that people still go to stores and malls is really quite astounding.
Yet…
They do.
It's like we're programmed to go to these places…
All of a sudden, George R. Romero's Dawn of the Dead – the one where the zombies start flocking toward the mall – makes a LOT of sense.
That said…
As the world begins to feel the economic crunch of inflation – retailers are starting to get a little nervous.
Things are looking a little dire for some…
But for others – it could be the beginning of something BIG.
Find out who's in trouble… and who's about to make a LOT of money!
I've got to admit – the Gorilla isn't a big shopper…
If I have to go to the store for anything other than groceries… there's some kind of dire emergency.
However, Mrs. Gorilla enjoys going to stores and shopping whenever the need – or the desire – arises…
And one of her favorites – is Target (TGT).
Target (sometimes pronounced "tarjay") has long been an American retail staple – and one of box store giant's, Walmart's (WMT) biggest rivals.
Over the last decade – it has been on an incredible run…
But it seems like a run that's about to come to a screeching halt as Target recently issued its SECOND profit warning in less than a month.
Of course, this announcement had repercussions…
The stock took a 10% hit.
It could have been worse, though – as last month – Target investors watched in horror as they witnessed the biggest one-day drop since 1987.
So…
Why is Target adjusting its profit outlook for the 2nd time in just 3 weeks?
The reasoning could be summed up in just one word: overstock.
The pandemic revealed a bunch of problems with our supply chain – and after months of not having enough of what it needed – Target now has more…
But with less people needing to buy it.
So, the company is taking some "aggressive steps" to reduce a stockpile of products that is 43% bigger than it was a year ago.
Target said the move will make room for big-sellers eventually…
But for now, it's going to have to offer big discounts and cancel a few orders that haven't been fulfilled yet.
The thing is…
What choice did it have?
The company needed to stay stocked up enough that it wouldn't run out of merchandise amid all the supply bottlenecks – but due to fear of running out of things – wound up with an excess of goods that nobody is buying.
I guess the good news for Target – and BAD news for retail is: Target isn't the only company in this predicament…
Walmart is in a similar position – so it's rampant across the board.
Seems pretty bleak…
But there IS some good news.
Kohl's (KSS) has had a rough couple of years…
However, while things haven't been great – investors could soon get a nice little boost in its shares – as the company just announced it's in exclusive negotiations to be bought out for $60 a share by retail company Franchise Group.
That's GREAT news – as it would value the company at $3 billion MORE than its current market cap.
$8 billion for an embattled retailer isn't too shabby…
As it seems this is one of those rare cases where there will be winners on both sides.
I'm sure that Kohl investors are welcoming this news with open arms.
See?
It's not all dark clouds – the sunshine is peaking through…
Which is exactly how GorillaTrades is designed – we're able to find only those stocks with the most potential in ANY kind of market because each of our recommendations is made by using data and numbers.
We don't go with market momentum or hunches – just real data that tends to pinpoint the best stocks available.
We'd love to have you around for the next pick – which is why I'm extending an offer to you to join GorillaTrades today.
In times of economic uncertainty – it's good to have something you can count on.
Regardless of your decision – even though things look dark – don't lose hope!
Every cloud has its silver lining – and we can help you find it.
"We might describe our world as having retail sanity, but wholesale madness." – Peter Thiel