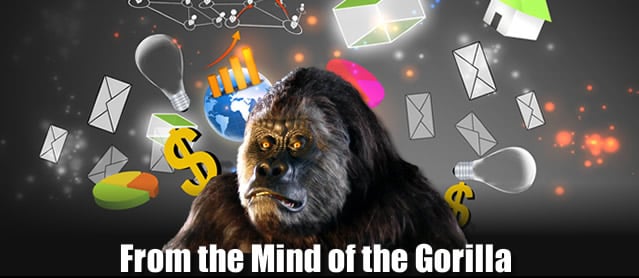 As a rule of thumb – we don't like talking about politics here at GorillaTrades – but since it's so prominent in the market…
We feel that if we don't talk about it – we're ignoring the big picture – especially with an election just a few short months away.
Everybody seems to have an opinion on politics these days…
And everybody seems to think they know who's going to win and why…
But the truth is: nobody really knows anything.
And with speculation happening on both sides – especially as it pertains to the markets – it's important that the Gorilla lets you in on a little secret…
Ready?
It really doesn't matter WHO sits in the Oval Office – the fact of the matter is – the new (or "old") President doesn't affect the markets as much as some of the talking heads on the boobtube like to tell people it does.
History shows us the truth – as going back almost 100 years, the S&P 500's returns have been IDENTICAL regardless of which political party wins.
What seems to matter more is when we have a split legislature…
But the truth is when it comes to stocks and being in the black – over time it doesn't seem to matter who's living in the White House nor does it matter if there is a D or an R next to their name.
However, there is something they DO have a hand in determining success or failure in the markets…
And that's which SECTOR will see the most gains.
For instance, if we were to look at the HOTTEST sector of business right now – which is undeniably the tech industry – do you think one of the two men running for president would be better or worse?
Well, President Trump's corporate tax reforms were a HUGE boon for American tech companies, as the Tax Cut and Jobs Act of 2017 dropped the corporate tax rate from 35% to 21%.
That was huge…
Even bigger was the tax amnesty deal that allowed companies to pay 15.5% on any money that companies were holding overseas that were brought back to America.
You can bet a second term for Trump would probably mean more of the same – even though those tax cuts don't expire for another 5 years…
While a Joe Biden win would likely mean higher taxes for American tech companies – couple that with the fact that Biden has also proposed eliminating loopholes that allow U.S. companies to stash cash from foreign profits offshore – and Trump win could see MORE big gains in the tech industry.
So, with respect to tax policy, a Trump win would be a boon for Big Tech.
However, that doesn't mean that Biden doesn't come with his pluses either…
As a Biden win could open the market back up – instead of leaning so heavily on ONE industry.
Joe Biden and Kamala Harris' policies could favor a broader cross-section of Wall Street…
Their push for healthcare for all, a more inclusive spectrum to determine credit and who gets it, as well as their push for renewable energy could be HUGE for these sectors.
And it's the "green" energy sector that could see the biggest growth – as there are so many opportunities in this burgeoning industry.
Harris supported the Green New Deal in 2019…
And as a presidential candidate, she was in favor of a fracking ban – but didn't include it as part of her official environmental plan – probably because of how it was able to give America its energy independence.
So, as she gets her views more in line with Biden's – you can expect to see HUGE growth in this sector…
Of course, the Biden/Harris tandem would probably have the same love/hate relationship that Trump has with the tech sector…
A Biden win would mean a more balanced market.
For the past few years – we've really only been able to depend on the tech industry…
Sure, there have been outliers here and there – but the fact remains that tech really seems to be the only game in town – so more opportunities would be great for investors.
That said – investors should rest assured that it really doesn't matter who's sitting in the Oval Office come January 21st…
We'll still have PLENTY of ways to make money.
If you find yourself among the anxious – just remember – GorillaTrades is here to help.
We rrally don't care who wins the White House…
Our system doesn't depend on presidents, momentum or rumors – it runs on data and information ONLY.
Which is why we've become the most trusted stock-recommendation site in the world…
I'd love to tell you how it works – but it's better to SHOW you – so please, consider becoming a member of GorillaTrades today!
However, if you'd rather roll the dice and go it alone – we get it…
Just do yourself a favor.
If you are simply worried about how a D or R win might effect the stock market – when it comes down to it – you'll STILL be able to make money!
"I can't change the direction of the wind, but I can adjust my sails to always reach my destination." – Jimmy Dean