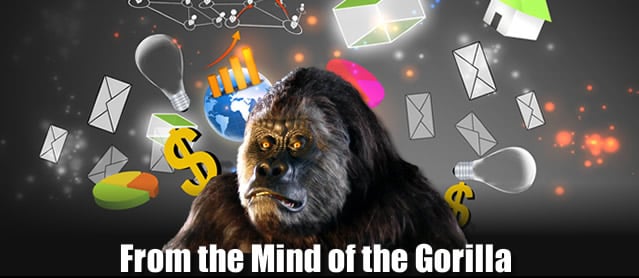 You know…
For a computer geek, Bill Gates seems to have a pretty good nose for stocks and investing in general.
While he may not be Warren Buffett or Peter Thiel – he has made some incredible moves – including allegedly stealing Apple's (AAPL) operating system and making it his own…
But that's a story for another day.
We're talking about what trades that this philanthropist billionaire has made AFTER becoming one of the world's richest men – and how his latest move could put money in your pocket if you follow suit.
See what Bill's doing now that could be a sign of things to come – just keep reading.
So, Bill Gates…
We all know how this self-professed computer geek who likes to jump chairs (seriously, there are videos of him and his buddies trying to jump chairs as a hobby) turned his business, Microsoft (MSFT), from a tiny software company into one of the biggest computer companies on the planet.
If you were smart and invested in Bill's company during its IPO in 1986 and invested, say, $1000…
You'd be living the life right now – sitting on a $1.7 million dollar fortune.
Not bad, right?
To be honest…
If you'd have done the same and bought Apple (AAPL) at its IPO in 1980 – you'd have less than half that – at a scanty $425,000.
That's investment humor and sarcasm, obviously, as a $1000 investment growing to that size is every investor's dream…
Though, we'd rather not wait 40 years or so for that to happen.
So, believe it or not, Microsoft has been more profitable than Apple for investors…
And while it made some people a lot of money – it made Bill Gates into one of the richest individuals in the history of the world – and that's not something anybody outside of Jeff Bezos, Elon Musk or Steve Jobs could ever really identify with.
As Bill has stepped down from his duties at the company he created…
He and his wife Melinda have been busy becoming one of the world's most active philanthropists – with he and investment guru, Warren Buffett creating the Giving Pledge – to which they and 211 other billionaires who have signed the pledge will give away over half of their net worth before they die.
And while this hasn't exactly happened yet…
The Bill and Melinda Gates Foundation has been very generous giving money to charitable organizations around the world.
The Gates' look at their foundation as a way of paying their good fortune forward…
Which is why when there are moves being made with the organization's portfolio – people pay attention – as these moves are done to make the foundation's wealth grow so they have even more money to give away.
So, recently, when The Bill & Melinda Gates Foundation Trust (the entity that manages the funds of that foundation) completely exited positions in Alibaba Group Holding (BABA) and Uber Technologies (UBER), as well as reduced it stakes in rival, Apple (AAPL) – people noticed.
These moves are something of an event for some on Wall Street – as they know the purpose of the trust is to make the foundation money…
And if they're exiting or reducing their positions – there's a very good reason.
Are Alibaba and Uber done?
Not likely, but the really big profits may be on the back burner for now until something new comes up…
Which may be why the trust made another move that we should ALSO pay attention to.
While they opted out of those other stocks…
The trust increased its investment in Schrodinger (SDGR) – buying 2 million more shares in the company that whose software is used in the drug discovery process – to increase its holding to 7 million shares.
Schrodinger's IPO was priced at $17 a share back in February of 2020 and the stock ended the year 466% higher at a whopping $79 – and in 2021 already – those shares have gained 32.6%, sitting an impressive $105 per share price.
So…
What does this teach us?
That while Bill Gates isn't known for his stock prognostication – the guy sure does have a nose for money – and we may want to pay attention to the moves his trust makes.
Not to toot my own horn, but your very own Gorilla has a nose for making money too…
It's why GorillaTrades exists! When you quickly turn $250K into a whopping $5.5 million* – people tend to know your name – and listen to what you have to say when it comes to investing.
My subscribers come to me not for my wit or charm – but for my ability to potentially help them make a lot of money…
And I'd like you to have that same chance – which is why I'm asking you to become a subscriber to GT today.
We'd love to have you on board for the next round of recommendations – but understand if you'd rather stay a lone wolf.
Either way, do yourself a favor and check out Schrodinger – if it's good enough for Bill Gates – it should be good enough for you!
"I believe that if you show people the problems and you show them the solutions they will be moved to act." – Bill Gates
* Please note that this happened during the dot-com era, and Ken used both margin and options to leverage his account. This result is not typical and it would be very difficult to produce this type of return in the stock market today.