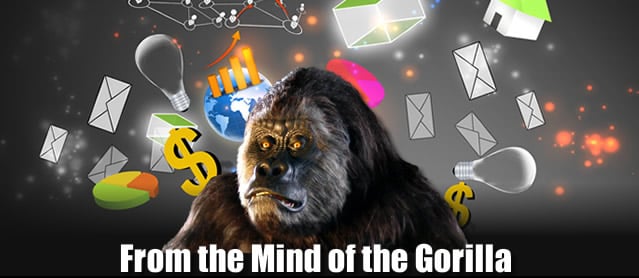 Ahhh, remember days when companies would build their business the old fashion way?
The best part of the "old way" of doing things?
The commercials…
Commercials were the fastest and easiest way to get new companies and products support. I mean think about it…
How many of us can sing the Oscar Mayer song? "Myyyy bologna has a first name – it's O-S-C-A-R…"
Commercials were a BIG part of the "old way" – it used to be a company would come up with an incredible service or product, market the heck out of it on the radio or television, sell enough to create a new incredible service or product so they could start the cycle all over again.
But that conventional strategy doesn't work in the fast-paced world of the 21st Century…
Our world works in 5-second sound bites – people don't have time to watch a full 30-second commercial – the average attention span has been whittled down to almost nothing.
So companies have had to find a new way to grab the consumer's attention.
Sure they could spend millions on newer flashier commercials, but that may be a case of beating a dead horse – no, businesses of the 21st Century have had to evolve.
Have you noticed that more and more companies are popping up on social media sites?
Fast food chains like Wendy's, Burger King and Taco Bell all have pretty active social media pages – in fact – there have even been times when these companies have actually gone after each other (in a playful way) and gotten into full blown Twitter wars.
But they're not the only "big boys" getting in on the action…
Imagine my surprise when I discovered that Chef Boyardee has both a Facebook and a Twitter page.
What does Chef Boyardee need with social media?
It comes down to one word – community.
Companies are building communities that will buy whatever they put out – it's the 21st Century's version of brand loyalty.
Once a consumer is loyal to a brand – they'll often buy blindly…
"Oh, Chef Boyradee is putting out dry pouches of Ravioli? Well, I love all of their last Beefaroni products, so I'll be getting that as soon as they come out!"
They'll often buy without reviews…
They'll often buy without hearing feedback or opinions…
It's the business model put forward by Facebook a few years ago – and for most of the younger generations – it's the only thing they know.
This generation will buy the same brands of everything – shoes, clothes, cars, school supplies…
It's almost scary.
In a way, it's made it easier to figure out which stocks could be runners and which are just pipe dreams…
If you think you've got a great tip – search for them on social media. Sure, there are lots of companies that shy away from Facebook and Twitter – but you may be surprised which ones are savvy to today's evolving markets.
And keep in mind big followings don't always mean a success – many companies buy followers and "likes" to foster the image of success – but it ultimately comes down to interaction.
Followers that interact on pages are a good indicator of TRUE brand loyalty – and to the smart investor – this could be the sign of a solid investment.
Social Media presence isn't a part of the GorillaTrades algorithm – but it could help you to make better decisions when it comes to investing.
And… if you're interested to see how GorillaTrades REALLY works – we'd love to have you as a member. You can always join our ranks and be among the very first to get our picks emailed straight to your inbox!
Or you can wait and check OUR Twitter after the fact…
See? Everybody's on social media – even the Gorilla!
"You may say I'm a dreamer, but I'm not the only one. I hope someday you'll join us. And the world will live as one."  ― John Lennon