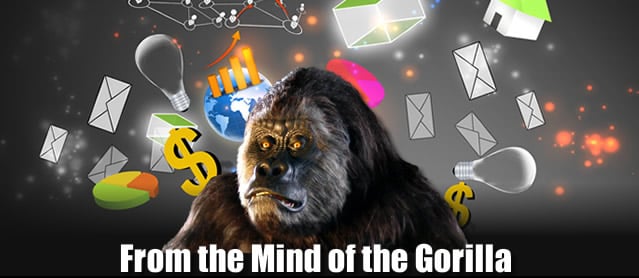 It's time to take a step forward. Actually, no…
It's time to take a LEAP forward.
And I'm not talking about societally or geopolitically…
I'm talking about taking a quantum step forward in the way we make money in the markets.
The future is moving in one, technological direction – we can see it happening – the advancement of science and computers is pushing us towards an incredible future.
It may be time to start looking to where our world is heading – rather than where it's been – especially if we want to make a dollar in the stock world.
I believe one of the biggest industries in the future is just now emerging as a viable market – meaning there are ways for people like you and me to make money…
But the longer we wait – the smaller our profit window gets. And me being me?
I'd rather be along for the ride – than the guy waiting in line to even get on.
So, let's take a glimpse into the future…
Do you know what's even MORE amazing than how far science has progressed over the past two decades?
It's how fast we've done it.
It's almost unbelievable just how quickly even the newest technologies become obsolete – sometimes it seems they do so overnight.
It seems like only yesterday that the Motorola Razr phone was the pinnacle of cellular and Blu-ray was the end all be all of home entertainment…
And do you realize that the kids born within the past 5 years will not even know what a VCR is?
Scary, I know.
But we live in a society where an attitude of "what have you done for me lately" prevails; resting on your laurels when the competition is out there jockeying for your spot isn't smart in the 21st century…
And no more is this "gung ho" attitude more prevalent than in the world of nanotechnology.
With applications in medicine, military and a host of other services, it's not hard to see why there are so many think tanks trying to perfect this tiny tech – each trying to get smaller and smaller with their robotic creations.
The military applications are incredible…
Nanotech could make modern day war a thing of the past – imagine being able to send a swarm of nanobots into battle before the troops engage. These tiny little machines could disrupt the enemy's equipment – forcing them to surrender rather than engage.
Other firms are working on how to use these bots in the search and rescue community…
These outfits are working on miniscule robots that can fit into the tiniest nooks and crannies of ruined buildings or collapsed mines in order to find survivors by locking on to heartbeats or body heat.
This application would work wonders during natural disasters or even terrorist events…
But it's the medical application of nanotech that I believe not only has the best chance to change the world as we know it – but could make the savvy investor incredibly rich going forward.
Understand this, we've got researchers working on ways to send these tiny little machines into our blood streams – in order to search out diseased or damaged tissue, with the possibility of cutting it out with laser like precision…
Or even an actual laser.
They're also working on nano-particles – making medication so small that they're treating diseases on a cellular level…
In fact, one source said that a team of Indian researchers from the CSIR-Indian Institute of Toxicology Research theorized that people with Parkinson's Disease lack dopamine (a chemical messenger that helps regulate normal body movements) in the brain and set out to see if repurposing biodegradable nanoparticles to carry dopamine to the brain in rats with Parkinson's.
And you know what they found?
The resulting nanoparticles successfully crossed the blood-brain barrier in the rats and released its dopamine payload over several days and reversed the rodents' movement problems without causing side effects.
This is HUGE…
And this is just one of the wonders that this future, moneymaking industry could soon reveal to the world.
Now, as an investor, it's important to note that there are a few companies very, VERY close to having a viable product that's ready for mass production; it's just a matter of time…
And if the rate of advancement of our entertainment is any indication, the day when a firm reveals upcoming test trials is coming sooner, rather than later.
I have my eye on a few of these companies…
Once they fit into the GorillaTrades trading matrix, I'll unveil the companies to my subscribers.
If you'd like to be among the first to get that epic email – please, consider joining GorillaTrades today – because these picks are so close to happening – even waiting till tomorrow afternoon could be too late.
But even if you don't join, do yourself a favor…
Look into nanotech and how it could affect almost every aspect of the world we're living in – and I'm sure you'll see what I see…
And that's a wonderful (and profitable) future.
"Even the largest avalanche is triggered by small things." – Vernor Vinge