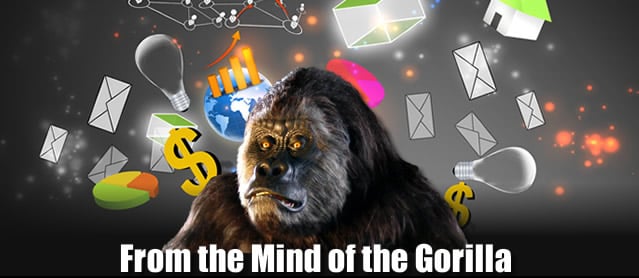 What's the first thing that comes to your mind when you hear the name Alibaba?
I'll bet you dollars to donuts that if you were born before 1990 – "40 thieves" or "Open Sesame" was the first thing to come into your brain.
You remember that old Arabian Nights tale about how a young woodcutter, Ali Baba, figured out a way to steal and outsmart a horde of thieves for their gold hidden in a cave and protected by a magical door.
Ali Baba ended up becoming one of the richest merchants of his time because of this – so it's not surprising that the story has stuck around for possibly thousands of years.
It's also not surprising why one of the world's largest, yet rarely talked about conglomerates adopted "Alibaba" as the name for its company.
China-based, Alibaba (BABA) is a favorite here at GorillaTrades – and not just because it's a much more affordable version of the perennially-solid Amazon (AMZN)…
But more for it's ability to churn out profits to shareholders.
In less than 2 years, this amazing stock has more than DOUBLED in price – all while sustaining a steady growth track while also acquiring companies that add value…
Which has been incredible.
However, early shareholders may be about to pocket a LOT more cash, as their latest move (which mirrors one of Amazon's latest acquisitions) could push this stock even FURTHER north!
Just a few months ago, Wall Street was abuzz with excitement…
All anybody could talk about was the BIG move Amazon made – which was buying grocery chain, Whole Foods, for a whopping $13.7 Billion.
Everybody was wondering just how things were going to work with this new partnership – as now – Amazon had something it didn't have before…
Brick and mortar store fronts.
It sent waves, not ripples, across the markets – and has been an incredible moneymaker for Jeff Bezos' juggernaut of a creation.
Well, those waves must have been felt big time in China.
Alibaba, who had already shown an interest in physical stores– looked at the Whole Foods purchase and obviously decided to make a similar move of their own…
Revealed early Thanksgiving week, the majorly internet-based Alibaba, announced that it would be investing $2.87 billion and acquiring a major stake in Sun Art Retail Group Ltd, China's closest version to Wal-Mart (WMT).
To say this is HUGE would be a gross understatement.
The stake in Sun Art gives Alibaba HUGE opportunities in China's $500 billion food retail sector, giving it a more-than-solid foothold in the offline retail market, which is so big, because this is where roughly 85% of all retail sales are made in China.
Alibaba CEO, Daniel Zhang says, "Physical stores serve an indispensable role during the consumer journey, and should be enhanced through data-driven technology and personalized services in the digital economy."
This should make things VERY interesting going forward for both the company and its shareholders.
I mean, think about it…
What's the dream of every investor?
To find an extremely cheap stock for a company that's on the verge of some new discovery or groundbreaking product that would take said company from the proverbial outhouse to the proverbial penthouse.
Or, to put it even more simply, to find a cheap stock that's about to go through the roof and make them a lot of cheddar.
And while Alibaba may not be considered very cheap…
It's a LOT cheaper than Amazon – yet it may have even MORE growth potential.
Which is why I'm so happy that I turned my GorillaTrades subscibers onto BABA quite some time ago…
Because now, they're going to get a chance to make even MORE money with this Chinese "cousin" to Amazon.
You should see the companies in the current GT portfolio – the amount of moneymakers there would knock your socks off…
And because we're adding to it all the time – it never gets stale.
I'm constantly on the lookout for winning stocks that fit the GT trading matrix.
I'd love to have you their for the next one…
Who knows? It could be as powerful as the Alibaba (BABA) recommendation I made a while ago!
Either way, whether you choose to sign up with us or go at it alone, you should do yourself a favor and take a look at BABA – it may be on the verge of making its shareholders a lot of money.
"What we need to do is always lean into the future; when the world changes around you and when it changes against you – what used to be a tail wind is now a head wind – you have to lean into that and figure out what to do because complaining isn't a strategy." – Jeff Bezos