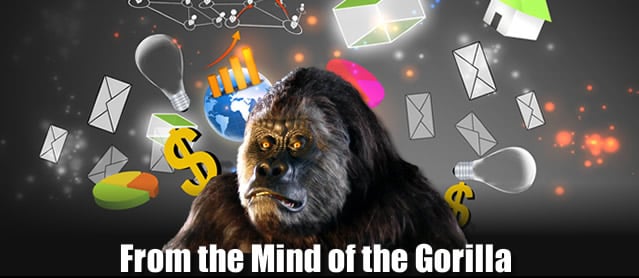 There are plenty of trends that people should avoid at all costs…
As there are some hairstyles and clothing styles aren't for everybody.
But there are other trends that people should definitely pay attention to – especially if you're an investor and want to make some money in the markets.
Some trends are more important than others…
And even more important is being able to tell the difference between and actual trend and a reaction to what's happening in both markets and the geopolitical world.
That said…
There's been a recent trend that ALL investors should pay attention to, as it could mean the depending on where it goes – we could be getting a chance at a HUGE profit opportunity.
Most people haven't noticed it… but the Gorilla is about to tell you all about it.
Trends are…
Complicated.
They're not the easiest things to spot – as what could be a trend – could just be an anomaly and just show the natural movement of whatever you're tracking.
Sometimes it's a trend…
Other times – it's just the way the markets are moving – and the secret to capitalizing from a trend is being able to differentiate between the two.
To be honest…
The Gorilla normally doesn't pay attention to trends in the markets as it really has no bearing on whether or not we put out recommendations or not.
The GorillaTrades system doesn't go by trends and speculation – it goes by hard data and real quantifiable data on whether or not a stock has the potential to be a winner – the less guesswork we can take out of it the better…
But that doesn't mean that we ignore things that are right in front of our faces either.
There is a trend that looks VERY promising when it comes to the S&P 500 and it could very well be one of those trends that makes a decision on how some people invest the rest of year – or if they invest or buy any stocks at all.
Understand, at the moment, the S&P is on the cusp of something either REALLY good for investors…
Or not so good.
While market volatility has been the rule instead of the exception as of late, due mostly to the coronavirus' impact on the economy – there's something developing with that index that could very well determine the future of the markets as a whole.
The question on everybody's mind is…
Will it regain it's lost momentum? Or has the recent bounce been nothing more than people HOPING for a recovery and trying to profit from the dip?
That's where we're at…
Investors holding their collective breath – waiting to see which direction the markets are actually going to move for now – and in the future.
One expert source shows us why what happens next is so important, "We know there was a big decline. Since the late 1800s, we've known that prices retrace part of a large move. Charles Dow, the founder of The Wall Street Journal, explained that prices retrace about a third to two-thirds of a big move."
The "trend" that the S&P 500 seems to be hitting lately – has returned 20% gains since hitting it's low on March 23. Again, most those gains are people trying to buy on the dip in hopes that the markets will make that profit-producing comeback we've all read stories about.
There's been a pause since though…
As there are some BIG name funds out there who are waiting to see whether this upwards tick is the REAL trend – or whether it was just wishful thinking.
You could bet the house that as soon as that trend reveals itself – these funds will start making moves that will tell the rest of the world which direction the markets are TRULY headed.
That same source gave his thoughts on what numbers we can look for before making a move…
"A break above 2,950 is a buy signal and a move to 3,400 (+15% from now) is likely if that happens. A break below 2,675 is bearish and sets up a target of 1,675 (-38% from now)."
Now, this doesn't mean this is a definite…
As hitting 2950 COULD be buy signal – it doesn't mean it WILL be.
So, right now, while the Gorilla hates to leave you in a lurch – the fact of the matter is – we're all in a holding pattern until one of these two numbers is hit.
We'll see what happens after that…
Luckily for GorillaTrades subscribers – this isn't too much of an issue – as we're always able to find potential winners REGARDLESS of the economic climate.
That's the beauty of making decisions from hard numbers and not guesswork.
We'd love to have you on board for the next round of recommendations…
So please, consider becoming a subscriber today!
However, if it's not your bag, we get it…
Just do yourself a favor and keep your eye on the S&P – it could be what predicts the future for investors like us!
"It seems we're always in transition and that it's more about trends than it is about what's meaningful." – Marlee Matlin