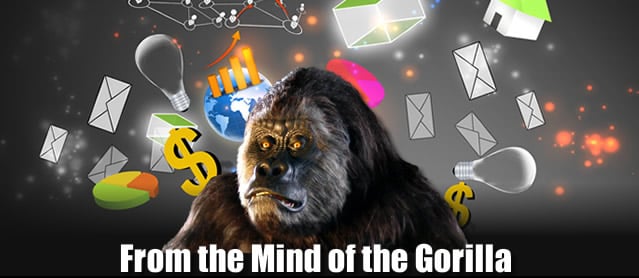 Thanks, Britain…
No, truly… THANK YOU!
You're probably wondering why I'm not panicking. Why I'm not running around like the rest of the "Chicken Littles" of the world – worried about the sky falling – well, I'll tell you…
Because by voting to exit the European Union – Britain has just given the world one of the biggest cash making opportunities we've had since the housing crash of 2008!
What am I talking about?
Have you ever heard the term "blood in the water?"
The market reaction to the EU has people freaking out. They're scared that their portfolios are going to drop significantly – or worse – disappear and be worth nothing. So, they're doing what the rest of the world has done for over one hundred years when they think they need to preserve their wealth…
They sell.
Fear will do that to you. Fear will have you making decisions that hurt rather than help…
They sell in order to horde their cash for when the market is rallying and they feel like their money is working for them.
If you were to ask Joe Schmo on the street, I'm sure he'd tell you how logical that sounded – that it was the smart move. That selling your shares for a loss now is better than selling them for a bigger loss later.
Well, none of us here are Joe Schmos…
We understand what it's like to be a true contrarian. To go against the grain.
To blaze our own path and not follow the herd…
We understand that's not how the world works. We know one little secret the rest of the world can't seem to grasp no matter how many times they're shown the way.
If people are unloading stock at cheap prices… it only makes sense to snatch them up!
Why would you sell for the cash just to purchase stock at a later date when it will most often be higher – sometimes a LOT higher?
There are so many ways to make money in times of economic uncertainty – that it's almost scary. Not that I'm a conspiracy theorist or anything – but I'm not saying it would surprise me if the world found out that any economic turmoil was by design rather than by effect.
People have built fortunes off misfortune since the world began…
Why would the 21st Century be any different?
That being said, GorillaTrades will be taking advantage of this market upheaval in as many ways possible. Our all-but-risk-free trading system is designed to give us the best chance at the biggest profits…
And I'm looking forward to what the next few months have in store for us!
We'd love for you to try us – but we understand if you'd rather go at it alone.
Either way – please keep our contrarian ideals in the forefront of any of your upcoming financial moves. Don't allow yourself to be sucked in by the fear.
You'll thank me when we get to the other side of this…
"Because even among contrarians, I'm a contrarian. But all of this is just words of bronze, third place rhetoric. What do I really mean when I say we want to shock society into awareness? Do we mean we want more originality and individuality? Less TV, more reading, writing, actual thinking? Less sheep, more shepherd pie? Yes, yes, and a little more pie, please. Oh, and some more sweet tea, too" – Jarod Kintz