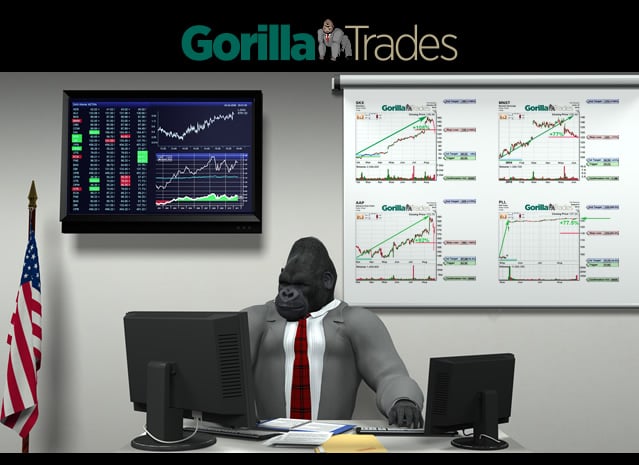 Get the daily stock email that updates, analyzes, and educates you on the current stock market conditions, along with providing new stock picks.
Gorilla Trades stands alone in the world of investing systems – not only do we provide a mechanized investing system, but we follow it up with the personal touch of the Evening Gorilla Email. This brings exactly what is happening in the market alive, making it easy for anyone to understand!
Each evening, after the market closes, the Gorilla presents an in-depth analysis of the day's stock market action, breaking it down into engaging concepts and examples to build a deep understanding. With our stock email you'll never look at the stock market the same way ever again! Where else can you get an unbiased stock market professional to give you his cutting edge analysis, with no bias to advertisers, networks, or politics?
You'll love the Gorilla's no-holds-barred commentary, and benefit from the Gorilla's years of experience reading the market. So when the market starts to edge that way, you can already be prepared to capitalize.
In the opening section, the commentary presents a recap of the day's performance, followed by insight into what actual traders on the floor of the NYSE are thinking. You'll love the insights the Gorilla stock email shares. This gives subscribers an idea of the driving forces, comparable situations of the past, and any emerging trends taking place in the market. In closing, the Gorilla takes over, sharing his wisdom with GorillaTrades subscribers. It may be a word of caution one day, or a word of encouragement the next, but the Gorilla always imparts his knowledge to let subscribers feel comfortable going into the next trading day. Simply enter your email address above to immediately receive a free sample of the Evening Gorilla Email from the most recent session. It includes any new potentially powerful GorillaPicks for today's session!