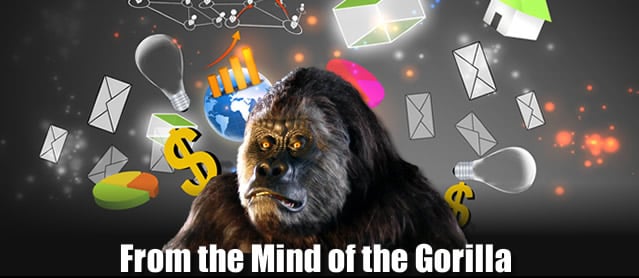 It hasbeen a rough few months…
Everybody's lives were disrupted in some shape or form – and while some had it a lot easier than others – nobody escaped it unscathed.
Hundreds of thousands of lives around the globe were taken…
While millions have found themselves fighting off the virus itself and billions have been locked down – the markets have plodded on.
The markets have been volatile, to say the least…
And while there was a moment where we thought the whole thing was going to collapse – a few stocks were able to keep us from nose-diving into the ground.
However…
With states reopening and a word that science is close to a treatment for the virus – what will the post-pandemic landscape look like? Which stocks will stand strong? Will we continue to make money?
Well, the answer to these questions may surprise you…
What the Gorilla can tell you for sure is: the financial landscape will look different than it does right now.
There is a lot of speculation about how the post-pandemic markets are going to shape up…
However, there's one thing we can bet on – and that the fact that investors will quickly lose their love affair with a few of the stocks that have become very popular – even though the companies will most likely continue to thrive…
And one of those pandemic superstars has been Zoom Video (ZM).
Zoom, an online video conferencing site, has been one of the biggest beneficiaries of coronavirus…
In fact, since the beginning of the year – the stock has jumped 140% due to the fact that it became one of the biggest business platforms for people around the world – even though it offers its' services free for meetings held under 40 minutes.
And that's the company's biggest problem…
Converting free customers into paying ones isn't going to be easy – especially since more and more people are going back to their offices for work and a few security issues – but that doesn't mean that the company won't be a standard going forward.
It may not be the best stock to own anymore – but some people were able to make a healthy profit from it and its video platform will continue to be a go-to for a lot of businesses going forward.
Falling from grace isn't easy…
But Zoom won't be alone in the post-pandemic landscape.
Another one of those casualties could also be Peloton Interactive (PTON).
Since the pandemic forced people to shelter in place…
In-home fitness and the equipment that could enhance the experience BOOMED – and one of the companies that was able to take advantage of this explosion was Peloton.
What makes Peloton such a popular brand is the fact that its interactive software allowed users to feel like they're getting a full fitness experience…
Instead of sitting home alone in their apartment.
But with states reopening – gyms are beginning to open their doors as well – giving people the chance to go out and be more social after being cooped up for months.
This could hurt Peloton big time.
However…
That doesn't mean the company is going to crash and burn. Peloton was a popular brand before the pandemic and will continue to be – it may just see a BIG slow down to the rampant growth it's seen over the past few months.
Now…
While these two companies may fall out of favor with investors – one that may keep it's place in portfolios (and hearts) everywhere may be Walmart (WMT).
Walmart was another star for investors during the pandemic – with a 20% price spike since the end of February…
However, unlike Zoom and Peloton, Walmart seems to not only have thrived through the lockdown – but reached a new level – and looks like it'll be trending upwards for months to come.
So…
We've got a few stocks that are out, one that's in, and a lot more that could go either way.
If you want help figuring that out – you know where to go – and it's right into the awaiting arms of the Gorilla.
GorillaTrades is designed to thrive no matter WHAT the market conditions are – our trading matrix concentrates only on hard data – meaning there is no guesswork involved.
If you're finding it hard to navigate the markets now…
Let GorillaTrades be your guide.
Please consider subscribing today!
However, if you don't, do yourself a favor and look at your portfolio going forward and ask yourself, "Am I ready for the post-pandemic markets?"
That answer may help you decide whether or not you go forward alone or with some help…
"Take the first step in faith. You don't have to see the whole staircase, just take the first step." – Martin Luther King Jr.