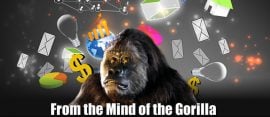 Who doesn't love a good steak?
To me, there's nothing better than walking out back on a Sunday afternoon, firing up the old grill and slapping a few filets down with some fresh corn.
It's really an American tradition, isn't it?
Know what else is an American tradition?
Making money…
However, if there is anything more American than those – is making money off our traditions…
And can you think of a better way to make money than off grills.
Believe or not – grill companies are KILLING in in 2021 – and they could be a way for you to pad your bank account.
And you'll never guess why…
So, 99% of Americans understand the value of a grill…
Their quick, convenient and clean-up is relatively easy.
However, not many people really think about the grilling industry in general – let alone as a way to make a profit…
But if there was ever a time to learn about this niche market – now would be the time – as there are some scenarios that are brewing at the moment that could make them VERY lucrative for the investor who knows what they're looking for.
The last few years have been a shot of adrenaline to the heart of the grilling industry…
As the lockdowns had renters and homeowners alike looking for new and interesting ways to prepare their food – and a lot of them decided to spend a pretty penny on some of the best high-end barbecue equipment that money could buy.
Why?
Because consumers spent more money on their homes and immediate surroundings after being kept away from restaurants, bars and anywhere else that people could get the food they crave – so it makes sense why people spent BILLIONS improving the immediate surroundings…
And a LOT of Americans spent a LOT of money over the past few years on propane, grills and all the gear – and this influx of cash is now allowing grill makers to take advantage of soaring sales to go public.
In the week after the BIGGEST grilling holiday in America – Independence Day – two of these companies have filed the paper work needed in order to issue their initial public offerings…
Both Traeger and Weber – the two biggest American manufacturers of barbecue grills – are planning to go public after decades of rumors and water-cooler talk, with good reason.
Sales at both Traeger and Weber have EXPLODED over the past year – giving these two companies some of their best quarterly results EVER.
Revenue was up 50% at Traeger in 2020, and sales climbed 60% at Weber in the six months through March – so, it's easy to see why these companies are taking advantage of all the cash and attention they've received.
These could be HUGE debuts for Wall Street – and investors could see a quick return if they're able to get in early enough…
But again, the hoopla that normally follows the announcement of a potential IPO just doesn't seem to be there for Traeger or Weber – which is why I could see these two being sleeper hits for those that act fast.
The best part?
It's not just Weber and Traeger looking to make their mark on Wall Street by tapping into the resources of public investing…
Online grill and gear retailers, BBQGuys, who may be known better for the fact that the Manning brothers, Eli and Peyton, are two of their vocal investors – is in talks to go public through a merger with Velocity Acquisition Corp (VELO) – at least according to people with knowledge of the matter.
Combined, the two companies could come valued $100 million short of a billion dollar valuation – which is a great place to be for a reverse merger.
Yet, again, the hoopla for these IPOs isn't there – and I think I know why…
And it's because these grill makers aren't necessarily using their windfalls for future expansion.
Traeger is putting the IPO proceeds toward repaying a loan, plus allowing some existing shareholders to cash out – while Weber says it will use all its net proceeds to buy back shares from its holding company, existing shareholders, and management.
This may turn a lot of investors off…
However, that doesn't mean they won't be profitable.
Home improvement industry adviser at NPD Group, Joe Derochowski, says the trend is sustainable for grill makers because so many Americans are eating and entertaining at home, "The table is set for grilling. Everything is growing because we're eating and entertaining more at home."
And he's right…
We just don't know how that will translate to investors.
Sure, you can buy at the IPO and hope for a big price spike…
Or, you can wait and put your trust in GorillaTrades while we learn whether or not these two companies have any legs by hitting the important aspects of our trading matrix.
The choice is yours…
We'd love to have you on board for the next round to picks – but understand if you want to cook your meat by yourself.
Regardless, you may want to keep an eye on these three companies…
They could feed your portfolio with some FAT profits!
"The key to good grilling is to recognize that you are setting yourself up to cook in a whole new environment. This is actually one of the main purposes of grilling – to get yourself outside." – Barton Seaver