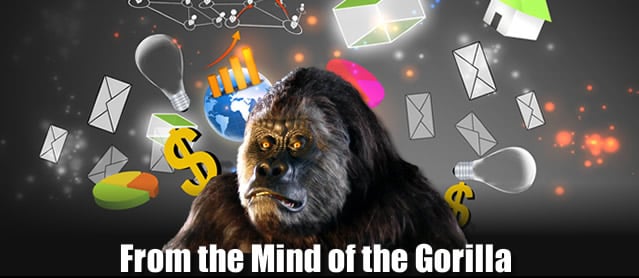 It's that time of year again, folks…
That time when people try to shake off all the bad or 2021 – and try to look forward to good that is going to be 2022.
It's human nature to want the coming year to be better than the last…
And after the past 2 years – that's even MORE so – as 2020 for many was the worst year on record and 2021 wasn't a day at the beach either.
There were tons of issues that regular folks faced on a daily basis that made life hard – while investors like us tried to find a way to make money during one of the most challenging times in our nation's history…
And people want a fresh start.

With 2022 around the corner, everybody who's anybody is starting to make their predictions for the coming year and it's interesting to see how different analysts can come out with two different results.
Here's what these experts see being the biggest stocks of 2022.
When people see an article like this, many think the same thing…
"Gorilla, you're an expert yourself… why do you care what other 'experts' think? Why don't you put out your OWN predictions?"
Well, the answer to this is two-fold…
First, I am an "expert" – but that doesn't mean I can't learn something new.
The fact of the matter is – the moment you feel like you know everything is the moment you stop growing – and I need to grow both for my benefit and yours…
As the more I know, the better service I can be to you.
I want to find out what my contemporaries think – and if I closed myself off to that – I wouldn't be an expert…
I'd be an egomaniac with a god complex thinking that I know it all.
How can I continue to help YOU make money if I won't even look at other opinions? I may be right a LOT of the time – but I'm not right ALL of the time – and we all need to fill our gaps.
Plus…
I love "top ten" lists – they're one of my guilty pleasures. I see a "top ten" list – I'll most likely want to find out what it is – regardless of the subject.

However, when it's a list of things I'm passionate about – you can bet that I'm going to click on whatever link is provided.
So, you know the moment I saw that both Barron's and Bank of America put out their top 10 lists of stocks for 2022 – I couldn't NOT click on them if I tried.
The reason these two lists are so interesting – is because of the difference in their focus and their audience…
One's a bank, the other a financial publication – and I wanted to see what was different and what was the same.
And, as you can expect, there was only ONE crossover that appeared on both lists.
Now, we're not covering the WHOLE list – just their top 3 picks to see what direction they see the economy going in 2022.
Bank of America's Top 3?
Walt Disney (DIS) – who it sees going up 31.4%, BorgWagner (BWA) – who it sees going up 23.3% and finally, Exxon Mobil (XOM) who it sees going up 17.4%.
Now, before you run to hit the "buy" button – keep in mind – BoA portfolio didn't do so hot in 2021 – so take its list with a grain of salt.

Now, Barron's doesn't put a percentage gain target on its list – so, I'll list the 3 biggest EPS estimates for 2022…
First is Royal Dutch Shell (RDS.B) – coming in hot with an EPS gain of 27.3%, then Amazon (AMZN) – with an EPS jump of 24.5%, and finally Visa (V) – with a 19.1% EPS gain.
Now, while Barron's did a bit better with its picks in 2021 – this is something that you should also take them with a grain of salt – as there is a lot that can happen between now and then.
Want to know what the ONE crossover on both lists was?
Wells Fargo (WFC) – a darling of Warren Buffett too up until THIS year where he dumped nearly ALL of his shares.
Do know what this tells me?
Neither of these lists are contrarian…
There's a reason that Buffett unloaded all of that stock and these two are recommending it.
Either they're not paying attention to the Oracle of Omaha – or they simply don't' care – either way, that's a dangerous game to play.
Now, to answer the second part of your earlier question…
I don't put out a "top picks" list because I TRUST the GorillaTrades system – why should I speculate when the system that is based on hard data and real numbers the do all the work for me – and I don't have to look like an idiot come next December.
I don't speculate…
I let the numbers do the work for me – and it's served me – and subscribers to GorillaTrades well over the years.
We'd love to have you on board for the next round of recommendations – but realize that some of you would rather do the work yourselves…
Just know, if you ever feel like you need some help – we're always here for you.
Regardless, do yourself a favor and see what the experts are saying – you may learn a thing or two…
Both of what to do and what NOT to do.
"Those who know me know I'm passionate about lists, and top of my list of priorities is my family. My wife Joan and I do not consider our legacy to our children to be wealth or fame but the opportunity to pursue happiness by following their own path." – Richard Branson