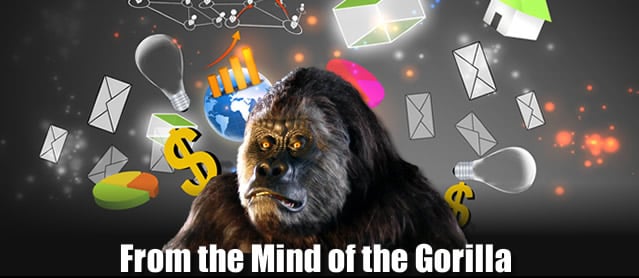 Man…
Are we BACK?
A lot of the "experts" say that the bear market in tech may be over…
That we're going to have a soft landing and we may not get a REAL recession…
I hope they're right.
While I may not be putting all of our Gorilla eggs in one basket…
The fact is – I am hopeful.
We're seeing a lot of good signs that the economy – at least the American markets – may be turning around.
We can make that determination by taking a look at the one industry that seems to have a direct correlation with success depending upon the direction of the market…
Technology.
For the past year – tech has been in the proverbial toilet…
And it's something that we've been able to measure across the board.
But lately – it seems the industry is on an uptrend – and if this is TRULY the case – then it looks like we may be through the worst of it…
And we just got ANOTHER hint that this may be the turnaround we've been looking for.
Now…
Tech is tricky – because the industry of the 80's, 90's and 00's that we knew looks a LOT different.
There are a lot of companies that you wouldn't consider to be "tech" – counted amongst their number.
For example – Tesla (TSLA) – while considered a car company by most…
Still operates mainly as a tech company – and its numbers tend to reflect the direction that the broader industry is heading.
So, "traditional" tech – this is not…
Just like Uber (UBER).
Like a lot of other tech companies like Microsoft (MSFT), Meta (META) and others…
Uber had a great Q4 in 2022.
High inflation seemed to be the blessing that Uber needed…
As the cost of car ownership has climbed so high in the US – some folks have resorted to letting cabs or ride shares shuttle them to where they need to be…
Couple that with the fact that our dragging economy has forced a LOT of people to the platform in order to earn some extra money driving others – it makes sense that Uber had a stellar Q4.
Uber had a record number of drivers on the road last quarter – and its chauffeuring (plus Uber's other mobility services, such as scooters and even rickshaws) – racked up a record 2 billion plus trips…
That means about a million people an hour were using the platform.
Not only THAT…
But the company's food delivery arm – Uber Eats – ticked along nicely too, helping lift overall revenue by a better-than-expected 49%!
This has led to some happy investors…
And, with Uber forecasting to turn a profit in in 2023 – those same investors are ready to buy more shares.
But there's no doubt that Uber Eats has become the company's unsung hero…
As the food delivery arm kept the business afloat during the pandemic – and the segment still brings in almost HALF of the company's overall revenue.
And with newer services like alcohol and grocery delivery starting to heat up – this could be the segment that drives Uber's growth going forward.
And while Lyft (LYFT) is still a proverbial thorn in Uber's side…
Uber is still KING.
It has more drivers on the road – which tends to mean Uber has a greater likelihood of grabbing customers – which may be why the company's buy rating is practically DOUBLE that of Lyft's.
It'll be interesting to watch going forward – that's for sure…
But not as interesting as the 2023 GorillaTrades seems to be in the midst of.
Our trading strategy is perfectly primed to find the BEST stock prospects going forward…
The fact that our trading matrix is ONLY build on hard data – seems to give us the edge over other stock services that go off their "gut feeling" or hunches.
It's why we've become one of the most trusted names in our industry…
And we'd love for you to join us.
Become a member of GorillaTrades today – and take advantage of the coming market surge…
Let us do all the work for you – you just sit back and relax.
However, we understand that there are some that like to be in control of their own destiny – but understand – if you're ever frustrated or lost with the direction of the market…
We're always here for you.
Until next time…
"Once a new technology rolls over you, if you're not part of the steamroller, you're part of the road." – Stewart Brand