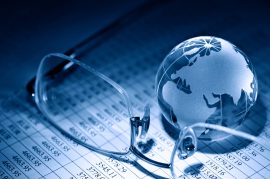 So, you're ready to start investing in the stock market, but you don't have a clue what stocks to pick or how to get started? Worry no more; you've come to the right place.
Did you know that if 50 years ago you had made a $10,000 investment in the S&P 500, that investment would currently be worth almost $1.2 million? Most people are surprised to learn this, but the fact is, investing in stocks is one of the best ways to build long-term wealth.
If you've been wondering how to get started investing in the stock market, there are a few best practices you should follow to understand what stocks to pick and to ensure you're doing it the right way. Take a look at our step-by-step guide to learn how:

Decide What Your Investing Approach Will Be
There are many things to take into consideration when investing in stocks, but the first thing you should decide on is what your investing approach will be. Everyone does it a little differently–while some investors choose to purchase individual stocks, others opt for a less active approach. Think about the following statements and determine which describes you best:
I love crunching numbers, and I've always considered myself to be an analytical person.
I hate math, and I don't want to spend a lot of time conducting research.
I have plenty of free time to dedicate to learning about stock market investing.
Even though I enjoy learning about the different companies that I may invest in, I just don't want to deal with anything math-related.
I'm a busy professional who simply doesn't have a lot of time to waste. I want to know what stocks to pick, but I don't have any time to analyze them!
You'll be glad to know that regardless of which statement you chose, you can still become a successful stock market investor. But how you approach the question of what stocks to pick will determine which strategy you should use.
The Different Ways to Invest
What stocks to choose will depend on how involved you want to be in the process. For example, individual stock investing is best left to those who have the time and the desire to perform thorough research and evaluate stocks regularly. There are pros and cons to individual stock investing. However, if you don't consider yourself a patient investor, this is probably not the best option.
When considering what stocks to buy, investing in index funds can be a great way to get started. Index funds track stock indexes like the S&P 500. You can also try your luck at investing in actively managed funds that attempt to beat an index. However, you should note that this will require you to spend time reviewing quarterly earnings reports and conducting a few mathematical calculations. If this isn't something that piques your interest, don't worry, it just means that you just need an investment option that allows you to take a more passive approach.
Passive indexes are great options for a few reasons. First, they have much lower costs than active mutual funds, and they are pretty much guaranteed to match the long-term performance of their respective indexes. The S&P has continued to produce approximately 10% returns annually. Over time, this can build substantial wealth.
Finally, we can't discuss what stocks to pick without mentioning the Robo-advisor. It's a new-age brokerage that has recently exploded in popularity. The Robo-advisor invests your money on your behalf in a portfolio of index funds based on your demographics, investment preferences, and goals. Therefore, you never have to worry about what stocks to pick since the process is entirely automated. The system handles your investing and makes adjustments over time for tax efficiency.
When it comes to investing, there is no one-size-fits-all approach to deciding what stocks to pick. That's why it's best to do some research and figure out which stock market investment options will work best for you.

Stock Market Investment Options at a Glance
Index Funds – One of the most popular ways to invest. This method tracks a market index fund and can help balance out your portfolio.
ETFs – Exchange-traded funds (ETFs) invest across a broad range of industries and trade like stocks.
Mutual Funds – Passive mutual funds with low fees allow investors to receive greater exposure to a broader range of stocks at the same time.
Bonds – Bonds represent a loan made by an investor to a company or government agency to finance various projects and operations.
Decide How Much You Want to Invest
When deciding how much to invest, here's a rule of thumb to follow: take your age and subtract it from 110. This number will give you an idea of how much of your investable money you should dedicate to stocks. What's left should go into bonds or high-yield CDs. You can then make adjustments to the ratio based on your risk tolerance and investment objectives.
Open an Investment Account
To start investing, you should sign up for a brokerage account. These are usually offered by companies like TD Ameritrade, E*TRADE, and Charles Schwab, just to name a few. You can choose between a standard brokerage account or an individual retirement account (IRA). Both options will allow you to purchase stocks, mutual funds, and ETFs.
Most online stockbrokers do not charge trading commissions, but there are still a few that do. Be sure to consider this when deciding where to open an account.
Start Choosing: What Stocks to Pick
When selecting stocks, you should make sure you do the following:
Diversify your portfolio
Only invest in industries that you understand
Avoid investing in highly volatile stocks until you have a better understanding of investing
Never buy penny stocks
Learn the basics when it comes to evaluating stocks
You can use an investment calculator to help you put together your ideal investment plan.

Continue to Invest
Remember, when you're investing, you're playing the long game. You don't need to do a bunch of flashy or risky stock investing to see extraordinary results. Purchase stock at reasonable prices and hold the shares for as long as the businesses continue to flourish. If you're looking for help choosing the right investments, GorillaTrades is the top stock-picking service in the industry. Try the service FREE for 30 days with no obligations!