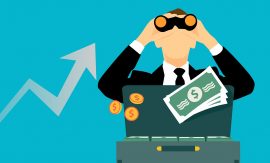 Oliver Stone's legendary character Gordon Gekko boldly declared in the 1987 blockbuster, "Wall Street," that greed was good. Since then, the mythology behind the self-made person that pulled themselves up by their bootstraps and made something out of nothing thanks to a small portion of capital and shrewd business knowledge has been the call to adventure for many entrepreneurs.
Navigating an active and sometimes volatile market can be intimidating, even more, the most experienced trader. If you want to go fast, go alone. If you want to go far, go together. You don't need to waste your money or squander valuable time pouring over charts in order to be a successful trader thanks to Gorilla Trades.
The Gorilla Trades system was developed by Ken Berman and has been turning out sustainable profits for anyone that has used it since its inception in 1999. Berman, a University of Michigan graduate, was Vice President of Investments at both Smith Barney and Paine Webber before founding Gorilla Trades. In the months leading up to Berman formalizing his trading method, he put his theories to the test by turning $250,000 of his personal savings into an upwards of $5,500,000*. This unequivocally proved the value of the Gorilla's methods, and the rest was history.
What makes this method so profound? It's simple, really. Gorilla Trades revolves around not only empowering its subscribers with the right type of information so they can make the best possible decisions but also teaching you how to be successful in any market by consistently showing you what a strong portfolio looks like. No matter your investment style or experience level, Gorilla Trades adds nothing but value for its subscribers.
Gorilla Trades is able to mitigate its subscribers' risk and losses because of its carefully curated portfolio that is as diverse as it is healthy. Boasting a large and diverse portfolio of stocks, this allows their subscriber base to take advantage of a wide variety of investment strategies. Thanks to the Gorilla's proven method of assessing stocks and delivering information in an easy to digest ways that allow his subscribers to understand the moves they are making, even a novice trader can see profits immediately. As of right now, 93 percent of their portfolio holds gains with half of those stocks keeping double-digit gains.
The Gorilla only wants to see his subscribers succeed; that is why he cuts out all of the confusing nonsense out of the process. There are no hidden fees, no need to day-trade, or waste time waiting for a number to come across a ticker, losses are typically under seven percent, and gains are usually between 15 and 40 percent. Give someone a fish, and you feed them for a day; teach someone to fish, and you feed them for a lifetime. The same thing applies to surviving in the stock market.
The beauty of the Gorilla's program is that it teaches you everything you need to know along the way. Rooted in capitalizing on unrealized gains and careful targeting, the everyday Gorilla Trades subscriber will learn how to identify strong stocks and, more importantly, when to sell at the peak value to maximize total profits. Knowing when to cash out is fundamental.
Selling too early might lead to missing out on a potential breakout stock. Getting out too late or after a certain point and you could lose a portion of the money that was yours if you acted sooner. Knowing how to navigate this is crucial because it separates the good investors from the great ones. Thankfully, especially for inexperienced traders, the Gorilla delivers information to his subscribers with his easy to understand reports, daily stock picks, weekly option picks, an iOS app that makes all information more effortless than ever to access, an afternoon market update email, and nightly newsletter.
The most valuable commodity in this industry is information. With the Gorilla's nightly newsletters, you will get honest and unbiased information from one of the leading minds in the industry. Thanks to all of the helpful tools Gorilla Trades gives to their subscribers, the guesswork is completely eliminated. You will never be caught off guard by market fluctuations again, thanks to the Gorilla.
This is your wake-up call. You could continue to waste your money with your current broker, go on paying hidden fees, and stay in the dark blissfully unaware of what you have been missing, or you could subscribe to Gorilla Trades today. Don't leave money on the table! Step into the jungle that is the stock market with the Gorilla by your side and start investing correctly. Even the humblest of investors can turn their capital from a small savings account that is forgotten about into something real. Learn how to make your money work for you with Gorilla Trades today.
* Please note that this happened during the dot-com era, and Ken used both margin and options to leverage his account. This result is not typical and it would be very difficult to produce this type of return in the stock market today.