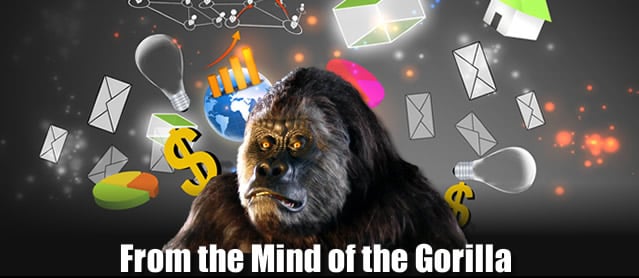 The term "expert" is thrown around these days as much as "genius" or "idiot"…
But a lot of the time – these aren't the right adjectives.
The fact of the matter is – anybody can call themselves an expert.
If you have anywhere from five to ten years invested into learning the intricacies of a hobby or profession – and have given it the vast majority of your energy focused on getting better…
Odds are you can call yourself an expert – but are you?
To the Gorilla – an expert is somebody who not only has knowledge on a certain subject – but has success in the field.
There are many economists that call themselves "experts" – but do they actually have success in their field?
And I don't mean accolades and awards in the field of economics…
I'm talking about leveraging that knowledge to make money.
Some billionaires may not be economists – but most ARE experts at making money…
So when it comes to the economy – their theories hold more weight than some college professor…
And here's what some are saying about our economy going into 2023.
Did you know there are just over 2,000 billionaires on our planet?
I really don't know if that seems like a lot…
Or too little.
Either way, billionaires are a fascinating subject…
Because when it comes to the act of making money, creating generational wealth or investing – billionaires are second to none.
If anybody has their fingers on the pulse of the economy or is close attention to the happenings of the financial world – it's these folks…
And as we find ourselves in one of the weirdest economies ever – I trust the "doers" more than the "thinkers."
2022 has been rough – and for many of us – we've been hoping that 2023 would be a lot smoother…
But according to two of the top billionaires in the US – things aren't going to get better… but worse.
With company after company having to adjust their earnings reports…
We can tell that things aren't improving – and that tracks with what Amazon founder, Jeff Bezos said in a recent interview.
"I can tell you the economy does not look great right now. Things are slowing down. You're seeing layoffs in many, many, many sectors of the economy. People are slowing down.
Thanks, Jeff… tell us something we don't know. He continued:
"My advice to people, small-business owners, is take some risks off the table. If you are going to make a purchase, maybe slow down that purchase a little bit."
Solid advice.
"If you are an individual and you are thinking about buying a new large-screen TV, maybe slow that down, keep that cash, see what happens. Same thing with a refrigerator, a new car, whatever. Let's take some risks off the table."
He's not wrong…
But he's also not alone in his sentiment about the economy.
During a recent conversation on Twitter…
Elon Musk gave his feelings on the economy and the Federal Bank's decisions while responding to one of his major investors.
Investor and entrepreneur, Vincent Yu tweeted, "I am expecting a real economic recession in 2023, be prepare for any macro storm ahead of us."
Tesla's (TSLA) response was a sobering snapshot of our current financial world…
Responding, Musk said, "Trend is concerning. Fed needs to cut interest rates immediately. They are massively amplifying the probability of a severe recession."
If they're right – and they of course – we always take these things with a grain of salt…
We can be in for a ROUGHER 2023 than we had in 2022 – and that's disappointing to say the least.
That said…
I'm not worried.
GorillaTrades was designed with these economic dips in mind…
Our trading strategy was created to make money in any kind of market – and we're able to do so because we do the one thing that most services shy away from: sticking to the fundamentals.
Our recommendations are only based on data and numbers – nothing else.
So, while people look at their trades and wonder why they're losing – odds are – they didn't pay attention to the fundamentals.
We can make it easy for your to survive whatever economic catastrophe is coming down the pike…
Or you can continue to go it alone.
We'd love to have you give us a try.
Become a member today so you can be there for our next round of picks.
Either way – when it comes to 2023 – you should hope for the best but prepare for the worst.
Until next time…
"Many of us like to think of financial economics as a science, but complex events like the financial crisis suggest that this conceit may be more wishful thinking than reality." – Andrew Lo