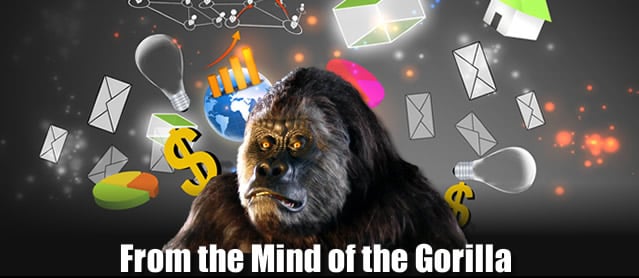 There are times when every investor finds themselves between a rock and a hard place…
Do I sell?
Do I buy?
Do I hold?
The answer isn't always apparent – and often times – your first instinct is WRONG.
Things happen in the market on a daily basis that can give even the most seasoned investor fits – but it's figuring out what to do with those things and how to walk away profitable from the exchange that really makes the difference between making money – and losing your shirt…
It all depends on KNOWING where things are headed.
You may be asking yourself, "Gorilla, what are you talking about?"
What I mean is – it's important to use the information we get to our advantage – before we freak out and make a hasty and often COSTLY decision.
For example…
Trump's new tariffs on the EU.
From the surface, it's very easy to look at this situation as something that could wreck your day as an investor…
Even with the recently signed "phase-one" deal with China – investors tend to react to any newly proposed tariffs pretty harshly – especially those that are levied against our allies.
The signed China deal should have been enough to send the market blazing higher…
But the fact that some think Trump is caving on the deal and the tariffs added up to a day of "meh."
Not really up – not really down…
But what can we glean from this information?
Well, the information I'm most interested in is the tariffs…
There's a lot more opportunity to make money there than there is from the China deal at the moment, in my opinion, as it gives us a place to aim before we pull the trigger.
What do I mean?
Well, the tariffs that Trump is levying on the EU seem to be focused on certain markets…
Knowing that fact gives us an idea of where to point our radar when looking for any new places to put our money to work, and where to avoid.
Not that it matters where it started…
But the whole thing stems from a dispute with Airbus that was settled by the World Trade Organization back in October…
The WTO ruled that the EU was providing illegal subsidies to Airbus (a direct competitor to one of America's biggest aerospace companies, Boeing- BA) – thus, giving them an unfair advantage in sales in the EU and giving Trump the green light to impose tariffs on $7.5 billion in EU imports.
The USTR originally wanted to target much more than $10 billion in goods but after the ruling, it imposed 10% tariffs on large civil aircraft and 25% tariffs on agricultural goods.
Now the office is soliciting advice on raising agricultural tariffs to 100%, and adding some goods it originally excluded from the list.
What items are being added to the list?
Irish whiskey, Scotch whiskey, Cognac, Spanish olive oil, French cheese and Portuguese fish fillets.
These tariffs are going to send some people into a tizzy…
But the truth is – it shows American investors where to start looking and where to avoid if they still want to profit while we wait for this whole mess to sort itself out.
Now…
It's important to understand that these aren't the ONLY tariff threats the U.S. has made against the EU as of right now….
Earlier in December, the Trump administration said it was considering 100% tariffs on $2.4 billion in French imports as a response to France's digital tax that targets large tech companies – most of which are housed in America.
Say what you want about Trump…
But he's not letting American business go undefended abroad.
And these tariffs show us exactly which industries to look at.
Liquor, olive oil, high-end dairy products…
The possibilities are endless here.
There are so many ways that we can make this work in OUR favor – there are almost too many to count.
Which is why we don't rely on that excitement here at GorillaTrades…
We rely on numbers and facts…
Hard data is how our system figures out which companies are winners and which ones we should stay away from.
It makes it easy…
That said, we'd love to have you try it – so come on board and give it a shot!
If we're not your thing – we understand – just know that we're here if you ever need us or want to start looking for opportunities in some of the markets mentioned above.
It could put some $$$ in your pocket.
"The fact that man knows right from wrong proves his intellectual superiority to the other creatures; but the fact that he can do wrong proves his moral inferiority to any creatures that cannot." ― Mark Twain