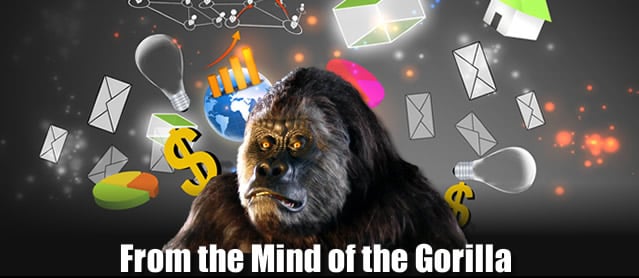 "Buy the rumor… sell the fact."
This adage has been used in the trading world since the dawn of the markets…
But how accurate is it?
There have been instances where the rumor has played against investors – where they wind up losing money based on the "rumor"…
However, most of that lost money comes has stemmed from the CRAZY world of cryptocurrency – but when it comes to stocks – this adage has been pretty accurate MOST of the time.
Wall Street LOVES rumors…
It's the lifeblood of the entire market – because when it all comes down to it – while we like to think differently, it really does come down to speculation.
However, even if the rumors aren't true – there is money to be made…
And that could be the case for THIS rumor that might change the online streaming market as we know it.
Again, I hate to break it to you, but the markets really are almost 100% speculation.
Even when it comes to GorillaTrades – while our trading matrix is solely based on hard data and numbers – the fact of the matter is, we don't know for sure that our picks are going to make our investors money.
In fact, some don't…
Though, we like to think of these as anomalies – the fact of the matter is, no matter how sound the data is – sometimes things don't always work out.
So, if you're not good with at least a little speculation – then you're in the wrong place – there is always an element of chance when it comes to investing.
Sure, GorillaTrades does whatever it can to cut down on as much of that speculation as possible – but the truth is – there's always a risk.
That said…
If you're not comfortable with trading on rumors – then you may not to read any further – but if you do, realize you may be getting a chance at an incredible profit opportunity.
Do you know about Roku (ROKU)?
If you don't, it's a lot like an Apple TV (AAPL) or Amazon Firestick (AMZN) – it gives you access to streaming content through the internet – and right now – the company is sitting at a nice $57 billion in value.
The company could continue doing what it's doing and it will make money – along with its investors…
But this is America – where capitalism is king and money never sleeps – so there is always something cooking when you're a company of that size.
Now, while Roku is relatively new to Wall Street – the stock grew pretty big pretty fast…
And as you know, the bigger that any stock gets – the better it looks to those other companies in its industry that have the means to gobble them up and add their products and services to its own…
And when it comes to the entertainment market – that is more than a common occurrence – it's practically the law of the land.
This goes double when you have a company like Roku that is making money hand over fist right now from both streaming hardware sales and ad revenue.
In fact, Roku currently dominates the streaming device market – selling way more units that either the Apple TV or Firestick…
Which may be why Roku has found itself on the radar of Comcast CEO, Brian Roberts.
In a recent Wall Street Journal report, Roberts let slip that Comcast has toyed with the idea of acquiring Roku and ViacomCBS (VIAC).
Now, the truth is, the Viacom rumor is dead in the water…
Comcast already owns NBC – there's no way that the anti-trust police will allow them to buy ViacomCBS…
But Roku?
There's a very real threat there if Comcast decides to court Roku.
Which makes sense, as Roku blew away Wall Street's earnings estimates as well as grew its ad revenue that rocked its profit a whopping 79% higher in the last quarter…
Add to that a growing stable of original content, and Roku is on the cusp of becoming a dual-threat in the streaming market.
Comcast would be CRAZY not to eye Roku and bring it under its umbrella…
If that's the case – you could expect to see a LOT more money pour into Roku over the coming weeks and months.
However, the question is: will you be one of those people?
Or is this a case where you don't think the rumor is solid enough to entice you to hit that buy button?
Truth be told…
Roku could end up on GorillaTrades' radar VERY soon – and if so – my subscribers would be the first to know when the hottest profit opportunity would be. I'd love to have you there if this happens.
Which is why, as always, I'm inviting you to subscribe to GT today…
I get that you may not want to – but I always offer – just in case you're tired of going it alone.
Either way, give Roku a look…
You may want to pull the trigger sooner rather than later.
"This world is a great sculptor's shop. We are the statues and there is a rumor going round the shop that some of us are some day going to come to life." – C. S. Lewis