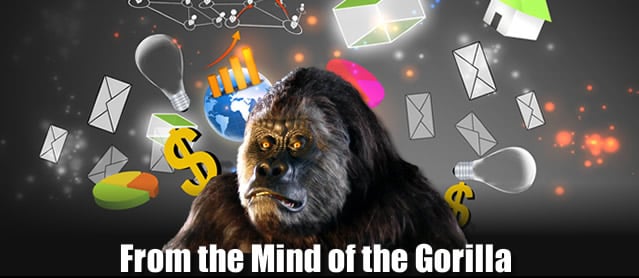 Are you a science fiction fan?
The Gorilla dabbles a little bit…
I grew up in the time of Star Wars and Star Trek – but leaned more toward the darker edge of the genre.
One of my favorites was Blade Runner – where Harrison Ford hunted down human-like robots before they killed people.
It was very stylistic…
But the film was based on a novel by Rick Deckard titled, Do Androids Dream of Electric Sheep?
The title is as intriguing as the concept…
And as our world moves more and more toward the cold electric embrace of technology – it's a concept looking more and more like science REALITY rather than fiction.
But we're not here to talk about AI or robotics…
We're here to talk about something just as cool – the auto industry.
I know it may not be as HIP as robotics – but there's nothing sexier than a sleek car to really get the mind racing…
But as the two industries begin to meld – it's getting harder and harder to see where the computer ends and the car begins.
However, with more and more car companies leaning toward going electric – that will happen even more.
And with Toyota going in heavy – will this change the entire auto industry?
In a world where electric vehicles (EVs) are gaining momentum (with China being a HUGE factor in this) Toyota (TM) is stepping up its game…
With a killer Q4 and a touch of anxiety from the competition – Toyota has set its sights on the EV market like never before.
With this titan of the car industry going in HEAVY on EV's – you can bet that the rest of the Big Boys will follow suit…
Brace yourselves… for a wild ride filled with ambition, green dreams, and a few unexpected turns.
Toyota unveiled its battle plan recently…
And to say it's ambitious would be an understatement.
While the company celebrated its crown as the world's leading automaker – it simply couldn't ignore the growing influence of all-electric cars in China.
To maintain its lead – Toyota is revving up its EV drive.
Last year, it sold 38,000 battery-powered EVs – but that was then – this now.
The King of Cars is aiming for over 200,000 in 2023 – but that's nothin'…
As by 2026 – it plans to unleash a staggering 1.5 million EVs on the world – debuting 10 new models in process!
Talk about "charging" forward!
I know…
Bad pun – but still – it's leading the, um, charge by going electric.
This is HUGE…
But let's zoom out and take a broader look at the situation…
Even if Toyota hits its targets – EVs will still make up a just a FRACTION of its overall sales – falling far behind industry leader Tesla.
However, every great leap starts with a small step…
And Toyota's intensified focus on EVs doesn't mean it's abandoning other technologies like gasoline, hybrids, and hydrogen.
It's a step in the right direction – especially for environmentally conscious investors.
This move – coupled with a fresh $1.1 billion buyback program – sent Toyota's stock soaring.
Who knew electric dreams could be so satisfying for investors?
The Gorilla can't help but admire Toyota's ambitious plans for the EV market…
While it may still have a way to go to catch up with the likes of Tesla – its dedication to the green cause and the buyback program have struck a chord with investors…
Let's just hope the lithium industry can keep up!
Either way – you know that the Gorilla is keeping an eye on things…
And the MOMENT Toyota or any other company triggers our trading matrix – members of GorillaTrades will be the first to know!
That's why I'm urging you now…
Join GorillaTrades today – that way you don't miss any off our SMS alerts.
Of course, you can continue down the path you've always taken…
Just realize that you might be leaving a LOT of money on the table.
We're here to help…
All you have to do ask.
Either way – keep your eye on Toyota over the coming years…
It could be a good fit for YOUR portfolio!
Until next time…
"Computing is not about computers anymore. It is about living." – Nicholas Negroponte