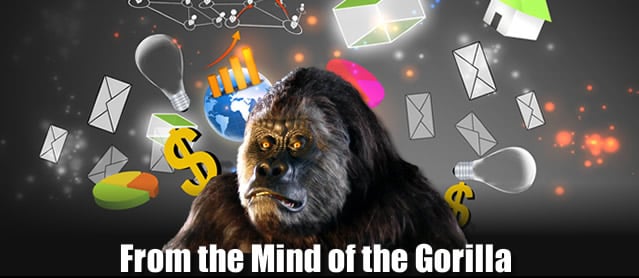 Unfortunately, not all of our talks together are about sunshine and rainbows…
The fact is, there hasn't been a lot going on with the markets that have been worth tooting anybody's horn about.
Things are looking pretty bleak right now…
For some.
For others, what we're looking at is one of the greatest wealth building opportunity we've ever seen.
Investment icons like John Templeton and Warren Buffett have used economic crisis to create some of the largest investment fortunes – while many were looking for a root just to hang on to.
Their secret?
They were prepared…
They both implemented the old Rothschild adage of, "the time to buy is when there's blood in the streets" – and become unbelievably rich.
You can too…
If you're prepared.
And recent news coming from the World Trade Organization warns us that the worst is yet to come…
Keep reading for all the details.
I know what you're thinking…
"Gorilla, you're not a 'doom and gloom' guy! What's with all this negativity?"
Well, I'll be honest – as weird as this may sound – I don't see the economic downturn a "negative," per say.
Sure, finding winners when volatility is wreaking havoc on the markets can be difficult for some (not for GorillaTrades and our proprietary trading system) …
But the fact is – there is still a LOT of money to be made – and you could even argue MORE money could be made due to lack of competition.
People have been pulling up stakes and running for the hills over 2022…
And if the World Trade Organization (WTO) is right – they'll be doing that even more in 2023.
Why?
Because the WTO warned recently that global trade growth could slow down significantly in 2023.
Of course, you didn't need to be an economist to see this…
As one thing's been clear for a few months – the bumpy road we've been on this year is going to stay bumpy – if not get a little bumpier as we move into 2023.
How much bumpier?
Well, food and energy prices loom large, and towering interest rates present many countries with the prospect of a full-blown recession – all of which is likely to weaken import demand.
On top of that, the zero policy COVID restrictions that continue to me implemented by China – the "world's factory" – brought production to a standstill…
Though, demand is starting to slow – so that may not be a bad thing.
It could be why the WTO sees global trade growing just 1% next year – far below its previous forecast of 3.4% and lightyears from 2021's 9.7% growth.
And that doesn't even take into account the effects of the war in Ukraine will have on global food production.
So…
How do we prepare.
Well, for all intents and purposes…
The best way to be prepared is diversification.
There are plenty of "recession-proof" markets out there right now.
Healthcare is a huge industry that is often unaffected by the woes of the general markets…
People will always need medicines and treatment.
Another industry that could bring you through the bumpier times?
The food and beverage sectors have done incredibly well over the past few economic downturns…
In the past, stocks like McDonalds (MCD), Walmart (WMT) and Anheuser-Busch (BUD) – have done well enough – however, right now, that doesn't seem to be the case.
Of course, there's always oil…
No matter how you slice it – no matter how you feel about EVs – oil keeps the world moving and will be in demand until the last combustion engine goes the way of the Dodo.
All that said…
There's another way to be prepared – join GorillaTrades today.
Our stock service is designed to make money – regardless of market conditions – as we only put out recommendations that are backed by data and real numbers.
We don't care about fear, uncertainty or volatility…
We care about what we can quantify – and our track record backs that up.
I'd love to have you with us for the next round of picks – but I understand if you're one of those who are pulling their money out of the market.
If you are, just realize you're leaving an incredible amount of money on the table…
While others are building their own Bear Market fortune.
Just food for thought – until next time…
"Heaven is a prepared place for a prepared people." – Lewis Sperry Chafer