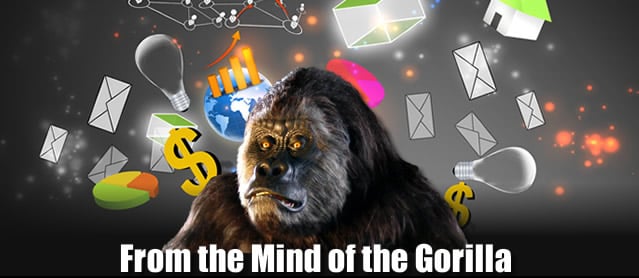 2022 has been a rough year for a lot of people…
But for Meta (formerly Facebook) – it's been absolutely disastrous.
Shares of the social media giant are down 70% as I write this…
But just a few weeks ago – they were down almost 75%.
That's a MASSIVE drop – and an even bigger frop from its peak share price…
But it finally seem to be moving in the right direction – at a snails pace – but the right direction.
However, that movement has come at a cost…
Prompting CEO Mark Zuckerberg to make an apology tour.
The question is…
Is it too little too late?
There's nothing worse than watching somebody like Mark Zuckerberg – who has the emotional expressions of a cardboard box – try to emote sympathy and empathy for the 11,000 Meta employees he just laid off…
That was a whopping 13% of the company's workforce.
I'm sure the apology video he made was a great comfort to those people just a week before Thanksgiving…
It's going to be a hard Christmas for a lot of people.
But what could he do?
He doesn't work for his employees…
He works for the shareholders who are VERY unhappy their holdings have dropped BELOW basement levels.
Last month's dismal earnings report revealed its second-straight quarterly drop in revenue and increasingly bigger losses from its risky metaverse bet.
Investors dropped Meta like a bad habit…
In the process, wiping away more than $89 billion.
The problem?
Meta's competitors like TikTok and Twitter aren't going to sleep on an opportunity like this…
And given there's very little chance that the companies fired-up competitors will slow things down – or that Meta's budget-strapped clients will ramp up their ad spending – you can bet that downward trend could keep going.
Which brings us to Zuckerberg's BIG plan…
Slashing his company's work force by 13% – and putting 11,000 people on the unemployment line.
This is the first time in the Meta/Facebook's history that it has had to do anything like this…
Which is another sign that the company is no longer just some social media darling – it's a real business with REAL problems.
However, this culling looks to be just the beginning…
As rumors are that Zuck's going to institute even MORE cost-cutting measures to not only keep shareholders happy – but in order to survive.
Budgets, manager perks, and even whole divisions have been put on notice…
"Show us your worth saving…"
Because the way the market responded to the job cuts – a 3% bump in share price after the news release – then you can expect more is on the horizon.
Meta's woes proves what I've been saying for a while now…
NOBODY is immune to the effects of the global economic slowdown – especially tech companies who thrive on speculation instead of value.
Recently, Salesforce (CRM) announced plans to cut jobs…
With Apple (AAPL), Amazon (AMZN) and Google (GOOG) have all hit the pause button on hiring too.
Even Meta's biggest competitor – TikTok – has adjusted earnings for its upcoming revenue report by a whopping $2 billion
This is what happens when you go big on an idea whose time isn't ready yet…
Zuckerberg believes that the metaverse is the future – and he's probably right, but the fact is he's going too big too fast – and society isn't ready to immerse themselves in this digital world yet.
He's learning an important lesson…
You can't force innovation.
I learned that lesson years ago when I first developed the GorillaTrades strategy…
I knew that I couldn't force people to just accept that my trading matrix helped accurately predict winning stocks – I had to SHOW them.
It didn't take long before more and more people turned to GorillaTrades for incredible stock recommendations – made by analyzing numbers and data…
Now, we're one of the most trusted stock services on the planet – and we'd like to have you on board.
If you're tired of losing money in this crazy market – let us help.
Whether you choose to join or not – we will still continue to give you investment ideas during these little chats we have.
Until next time…
"If we want to have the biggest impact, the best way to do this is to make sure we always focus on solving the most important problems." – Mark Zuckerberg